Communicate the right content to the right contacts at the right time by using segments.
Video 3:09 Shows how to create a segment in Upsales
🎯 Always send content to the correct contacts
Segments allow you to split your contacts into different groups, based on their information and behavior. For example, a segment might include contacts who match these criteria:
Is not a customer today
Does not have an ongoing sales process
Has generated marketing score by visiting a specific page
Hasn't unsubscribed
 Combine both marketing and sales data in your segment
Segments are dynamic, and reflect changes to your marketing and sales information as new companies and contacts are added and outdated information is removed. The contacts who match your segments filters are automatically included in the segment whenever you use it. Likewise, contacts who no longer match your segment filters are automatically removed from the segment.
You can use segments when sending email campaigns, setting up events or creating flows.
This article includes information on:
Also see related articles on:
Opening the Segments Lists
To view your segments, complete the following steps:
Select the Marketing tab.
Select the arrow next to Segments.

Select one of the following:

My active segments - for a list of active segments you created
My inactive segments - for a list of your segments not currently being used
All active segments - for a list of all active segments
All inactive segments - for a list of all segments not currently being used
Saved segments - for any of your saved lists
The list of segments you selected is displayed.
You can also toggle between the Segments and Flows list using the Segments/Flows buttons at the top of the list.
Viewing the Segments Lists
The Segments lists provide an overview of information about the segments that have been created.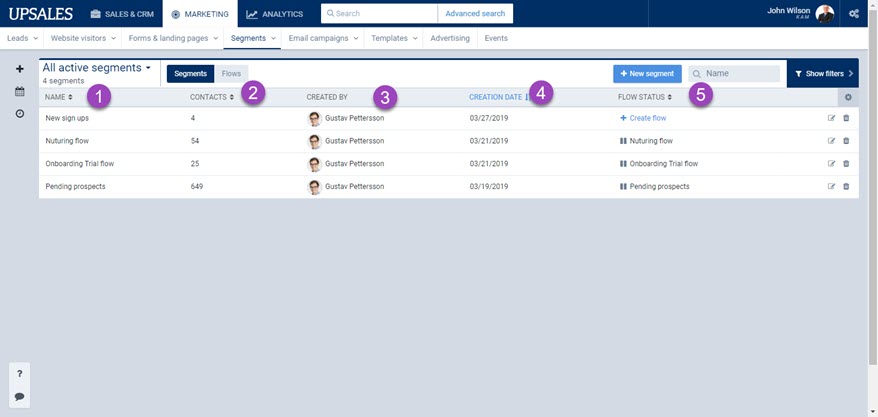 Name - shows the name you assigned to this segment
Contacts- shows the number of contacts currently matching the filters for this segment
Created by - shows the user who created this segment
Creation date - shows the date this segment was created
Flow status - shows the status of any associated flow for this segment, or allows you to create a new flow
To find a specific segment in the list, enter the first few letters of the name of the segment in the Quick Search field at the top right.
To customize your Segments list, you can:
- Sort the list
- Customize the columns shown for the list
- Filter the list
Once you have customized a list, you can save that view to return to it easily later.