Since contacts can enter whatever they want in your forms the form submits may sometimes contain fake or private email addresses. Setting a form to only require business email addresses will reduce this.
When a contact enters an email with a domain (name@domain.com) that are listed in your email domain blacklist a message will show telling the contact that the email they are trying to enter is not valid.
Setting for forms to require business emails
Activating
When editing your form in Upsales click and expand the mandatory form field called 'Contact Email' in the right sidebar. Now you'll see a toggle called 'Allow only business email'. Switch this to 'on'.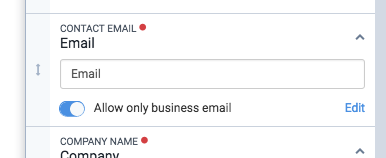 Adding domains to the blacklist
Now that the requirement is activated you need to enter which domains that are not seen as valid. Click the 'Edit' link in the right corner of the contact name field you just expanded to open the dialog.
The domains entered her will not be accepted when filling out the form.
We recommend you not to specify a top-level domain when you are adding a new domain, e.g. .com, .se, .org etc. All top-level domains for that domain will then be blacklisted.