Send mass emails to your contacts and track every open, click and website visit generated from them. A well-composed email campaign is the most effective way to engage your customers and activate new subscribers from your key companies. 
Sending an email campaign
Selecting contacts
Selecting recipients for your email campaign is tightly integrated with Upsales Segments. Either select a saved segment or use filters to narrow down your recipient list.
Selecting contacts with a saved segment
Segments are dynamically updating their contacts, that means that all contacts matching the segment criteria will automatically be added to your segment. So when adding a segment as your recipient list all contacts that currently match your segment criteria will receive your email campaign.
Selecting contacts by filters
If you don't want the dynamic import/export features of Segments you can use filters to narrow down your recipient list. If there's a contact that matches the filters you've set but you still don't want this contact to receive your email campaign, exclude this contact from the list by clicking in the right corner of the filter view.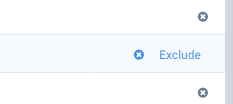 Email templates
When sending a new email campaign start by selecting one of the standard templates and customize to your liking. The standard templates are generated from the information you've entered in the Company Profile, like colors, logo, and typography.
Code your own template
If you'd like to build an email template from scratch select the bottom-most option in the template dialog called 'User our text editor'. This option uses a standard WYSIWYG-editor and the coding is up to you.
Sending preview emails or preview in browser
Common errors & bounces
If your recipient's inbox is full, or the email doesn't exist you will get what is called a bounce. Read more about these here.
Invalid email
Invalid email means that the server has not been able to identify the email address, the address contains invalid characters
(parenthesis, colon, semicolon, etc.)
, or is written incorrectly.
Unfortunately, if your contact is missing an email address we can't send them any emails. Go to the contact page and edit the contacts information.
Email was rejected
Emails can be rejected by a number of reasons:
Your email domain isn't verified with Upsales

The size of the email is too large, check your attachments and images, a total size of 15MB is considered standard.

The recipient's inbox is currently full
Inactive contacts
The contacts that are marked as inactive are sorted out before an email campaign is sent and will not receive your email. They will still be visible in your segment and recipient list.

To activate a contact; navigate to the contact page and click the edit icon. In the edit view, you will find a checkbox that says 'Active'. Make sure it's checked.
Previously unsubscribed
Contacts listed under the heading "Previously Unsubscribed" are the contacts that have been unsubscribed at an earlier date, unfortunately, they will not receive your email campaigns.
Tracking your email campaign
Tracking opened emails
When sending emails from Upsales a tiny pixel is attached to all emails. When the users open the email the pixel is downloaded by the email client and Upsales can thereby determine that the email has been opened.
Note: Some email services block images by default and the pixel mentioned above isn't downloaded. This means Upsales can't guarantee that your email hasn't been read.
Tracking clicked links in emails
Whenever a contact clicks a link in your email, this is registered by Upsales. To keep following the contacts after they've left your email be sure to add the Upsales Website visits tracking script to your pages.
Tracking form submits in emails
This is the number of recipients that clicked a link in the email and filled out an Upsales form on the following website visit.
Unsubscribe lists
Whenever sending an email campaign an unsubscribe list has to be selected. This adds the email campaign to that category and contacts that have selected to not receive emails whiting this category will not get your email campaign. Read more about unsubscribe lists here.