Use activity and appointment targets to follow-up your team's performance.
You need to be an administrator to view and add targets.
This article covers:
Setting up targets
1. Click Settings → CRM → Targets: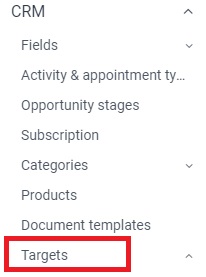 Target types
Ongoing targets
You have options for ongoing targets that are part of your sales strategy. For example appointments and phone calls.

Monthly targets
You can also set monthly sales targets, useful for recurring or ongoing sales models. That's why, unlike phone calls or appointments, numbers are measured by sales value/currency:

2. Choose the user(s) you'll be adding targets for:

3. Choose if you want targets per month or per week: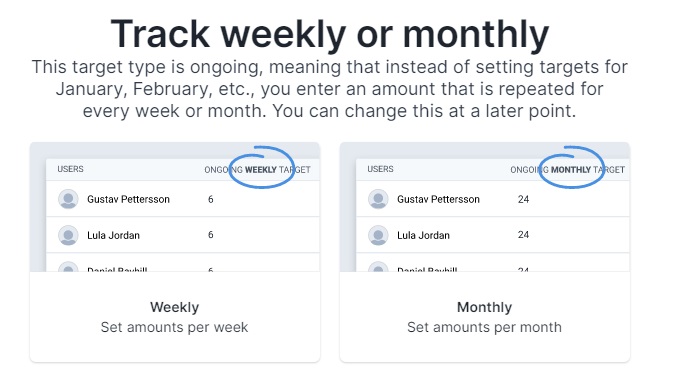 You can always change this afterwards, just by clicking the blue text:



4. Select the user
5. You can change the target year, currency, and whether to show inactive users:



Setting pipeline targets
This is the overall total of all opportunities (with a probability of 0–99%) you've created. Your sales team can then quickly see which opportunities need prioritising, which will generate highest/lowest returns, and predict revenue.
You have two options to set targets. You can add manually, or use the Upsales calculator. Click calculate target on the right-hand side of your screen:




This automatically changes based on your sales model.
In the screenshot below we're using ARR. Enter the target amount, and Upsales analyses both historical data and the user's sales ratio to give you targets. Change a target amount, and the other targets change dynamically,:


Don't want to use a target? Simply click the toggle button on the right of each target
Booked appointments
Only appointments booked by the user count towards their total. If User 1 books an appointment for User 2, this won't be added to User 2's total,
Completed appointments
These show the number of completed appointments per week or month. If two users are in the same appointment, both will register a completed appointment
Booked first appointments
Only booked first appointments booked by the user count towards their total. If User 1 books an appointment for User 2, this won't be added to User 2's total,