You can export the rows you've filtered out in almost all lists in Upsales by selecting them in the left side corner of the rows.
How to select rows for export
For this example, let's say you are now watching the activity list.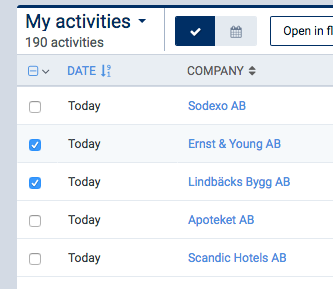 At the left side of each row in the list, you'll find a checkbox.
When selecting one or more rows an element with the title "Manage selected" at the bottom of your Upsales will appear.
Click on "Manage selected" element in the bottom of Upsales. The different actions you are able to do are now shown in the element.
Select "Export"
Tip! Clicking in the top checkbox in the list header will give you more selection options like "Select all", "Select all on this page" and "Deselect all"
Selecting what fields your export will contain
When clicking "Export" in step 4 above a screen is shown where you can select which fields you'd like to include in your export.
The fields that will be included are shown in the left side and the ones that haven't been selected to the right. To add a field, simply click it in the right side.
Downloading your export
Since your export might take a while to crunch a progress bar is shown in the notification dropdown at the top right corner of Upsales. The file format for your export is .xlsx (Excel)
When your export is done all you have to do is click the link in the notification menu and your file will start downloading. If the export contains very much data, your export will be split up into different files.
Tip! Wondering more about how export works? Chat whit us at Upsales by clicking the conversation bubble icon at the bottom left side of Upsales.