How do I send an email to recipients who didn't open my last email campaign?
There are two ways:
How to send emails to recipients who didn't open your previous email campaign
From inside the email campaign
Inside the sent email campaign, click the recipient list
Select the contacts who didn't open your emails by looking at the column named 'Action'

The contact has opened the email
The contact has opened and clicked a link inside of the email

The contact has opened the email, clicked a link and filled out a form on the page of the link.

In the left side of the row, select the checkboxes for the contacts you'd like to send your email to.
Click the 'Edit selected' dialog that appears from the bottom of the page and select 'Send group mail':

This alternative requires that you:
Send your email campaign from a Flow
Have templates for your first and follow-up email already designed
From inside a Segment create a new Flow
Sending the email:

Add an 'Action' as the first step of the type 'Send email'
Select the template you've designed for your email campaign
Select what type of email category it should belong to (required)
Click Save

Checking who didn't open:

Add a next step in the flow of the type 'Behaviour' and select type 'Email opened'
The email entered in the Action-step above will be selected as the email to track
Set the number of days that Upsales should wait to review who opened the email
Click 'Save'

Sending an additional email to the ones that didn't open:

Below the Behaviour you just created two paths are created; 'No' and 'Yes
'Create a next step of the type 'Action: Send email' in the 'No'-path
Select the template you'd like to send and the email category
Click 'Save'

Done! Your Flow will now send your email campaign to everyone included in the segment and then send an additional email campaign to the ones that didn't open the first one.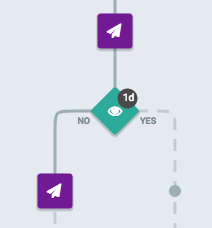 How to export email campaign data
Open Advanced search in Upsales
Click the tab called 'Contacts'
Scroll down to the section called 'Marketing Events'
Click the toggle beside 'Email campaigns', more options are now shown
Select the email campaign(s) you'd like to export in the 'Email campaigns' field
Click 'Show XXX contacts' in the bottom of the page
Click the upper left most checkbox to select all contacts




Select 'Export' in the menu that appears when clicking on the multi-action button (orange):


In the Export dialog that appears, select which fields your export should contain
Click Export and your download should start automatically.