On many of the lists in Upsales, you can perform actions on multiple rows at once by selecting each row you want to affect. Once one or more rows are selected a multi-action dialog will be visible on the bottom of the screen.

When you expand the multi-action dialog, you can perform different actions depending on the type of list. 
For example; Say that you have a list with many activities that are not closed yet. Instead of opening up each activity and then close it, select each row that you want to close. In the multi-action dialog, you can choose to close all selected rows.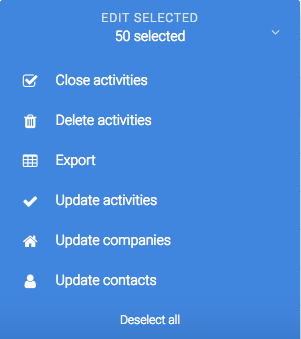 You can select all rows, all rows on the current page or deselect all rows by clicking on the select box in the list headers.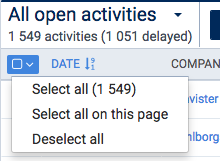 Available actions
Activities
Close activities
Delete activities
Export
Update activities
Update companies
Update contacts
Companies
Delete
Export
Quickcreate activities
Update companies
Update companies all contacts
Contacts
Add to segment
Anonymize contacts
Delete
Export
Quickcreate activities
Send group mail
Update companies
Update contacts
Orders
Delete
Export
Quickcreate activities
Update companies
Update companies all contacts
Update contacts
Update orders
Opportunities
Delete
Export
Quickcreate activities
Update companies
Update companies all contacts
Update contacts
Update opportunities
Sent emails
Export
Quickcreate activities
Send group mail
Update companies
Update contacts
Subscriptions
Delete
Export
Update companies
Update companies all contacts
Email campaign
Leads
Export
Quickcreate activities
Reset score
Update companies
Update contacts
Website visitors & Forms
Update companies
Update contacts