When clicking the "Explores"-button to create a Look, you might notice that your Upsales data is split up between a number of different Explores. You have to select the right to explore to access the data you want to use in your particular look.
There are two reasons for splitting up the data this way;
Avoid clutter, and improve usability. When starting out in Insights one might be intimidated by a large number of dimensions and measures available for use. This might cause confusion and misuse, which in turn can lead to looks that do not work the way you intended. By breaking the data down into these explores, we decrease this risk and make it easier to start out.
Optimizing speed. When becoming overambitious and combining different types of data across the whole database the complexity increases exponentially. This might cause long run times making the tool slower. This opportunity still exists, and in some cases it might be necessary. But to help keep you on the right track in the beginning the split up explores is a good thing.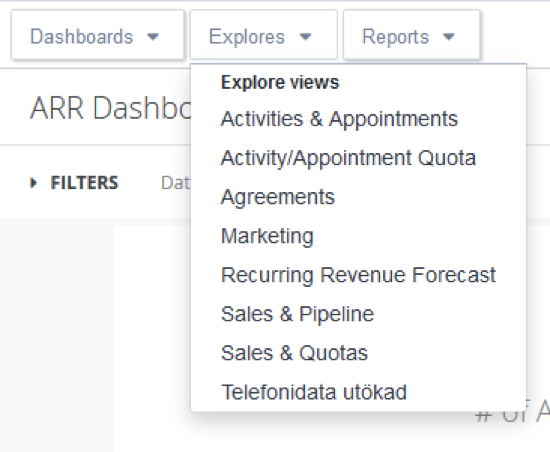 What does each explore contain?
The name of each explore is pretty self-explanatory, and the best way to learn is to play around and try out each explore. A few important distinctions are mentioned below.
Activities & Appointments contains details about activities and appointments. Activity/Appointment types, users, roles, activity campaigns, company info and other details can all be found here
Activity/Appointment Quota contains activities and appointments but in less detail. This explore also contains the appointment/activity quota set for each user. The point here is to create looks that measure quota fulfillment per user or role.
Sales & Pipeline and Sales & Quotas work the same way. The latter contains less detail, but also contains the sales quota. The point here is to create looks that measure quota fulfillment per user or role.
NOTE: If you feel that something crucial is missing from an explore, this can probably be added. Reach out to your assigned contact at Upsales or chat/call/email our support team to make that request.
As mentioned in this article, we have the possibility to bypass the explores, and combine data that is split up as standard. If you want to try this, reach out to your contact person or our support.