A subscription is one order split into several orders that are sent to the customer over a specific period of time. Subscriptions help you manage your billing, invoicing and also enable you to monitor customer base development. Automated follow-up of churn, ARR and MRR, and up-sells allow you to focus on growing your business.
This article covers:
Related articles:
Activating the subscription option
Click Settings → Subscription:




Click the Activate Subscription toggle:



The Subscriptions sub-tab now displays under the Sales & CRM tab:



Overview of subscription settings
Once the Subscription has been activated you can set a variety of fields to make creating subscriptions easier.
Select field for start and end date

You have three options for the subscription:
No field
Show no start or end dates
On order
Show start and end dates for the entire order
On every order row
Show start and end dates for every row in the order
if you choose to show dates, click the dropdown: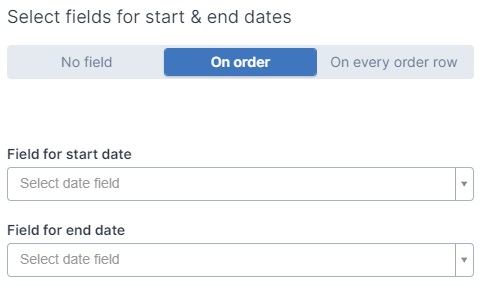 Note: You may need to create the custom fields for the start and end date fields if these drop-downs are empty.
Default settings
Default values will populate the fields when new subscription orders are created.
The available default values are:
Order interval (how often Upsales should generate new orders).



Period length (how long is each subscription):



Locked stages (prevent edits being made to subscriptions in specific stages)




Enable orders to be created in advance (have new orders be created and invoices sent ahead of time). You have a list of default options – click +Add option to set a custom number of days: