Adding additional business data for your companies in Upsales is done manually. Either when creating a new company in Upsales or when updating it from the company page. The data is only fetched once, meaning that if you want to refresh the data for that company, you have to tell Upsales to get the updated information.
How to update the company data for a company already added in your account:
Navigate to the company you wish to update, or get additional business data about
In the top right corner of the company page, you'll find a refresh symbol, click it


In the dialog that appears, click 'Update


The new business data is now added to the company.
Merging duplicate companies containing business data
We all know it, duplicate companies can exist in Upsales. These are sometimes created by integrations making a bad decision creating a duplicate, or simply by two users adding the same company.
There is a merge feature for companies in Upsales that fixes this, but it's important to check if any of these two duplicate companies has business data added to it. The one with the additional business data is probably the one you'd like to keep.
The merge features uses one company as primary and the other one as a secondary. The secondary company doesn't replace any information on the primary company but simply fills out the blanks. Make sure your primary company is the one containing the additional business data.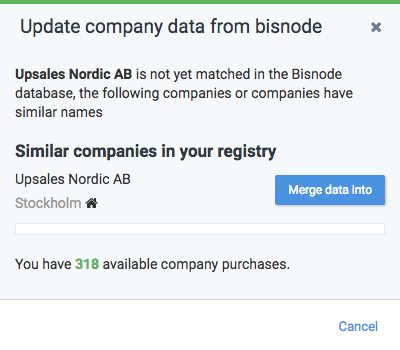 Upsales gives suggestions on similar company names that's already in Upsales in the dialog of updating company business data. Make sure that the company you are merging the information to is the one containing the most data.