Each Upsales plan has a max amount of users that's included in the price. For additional users an extra fee is added.
Check out the pricing for our different Upsales plans here
How to add a new user to Upsales
Adding users is done in the settings of Upsales and you need the role of administrator to access certain parts of the settings, including adding users.
Navigate to the settings page by clicking the cog icon in the top right corner of Upsales and selecting 'Settings'
In the left sidebar find the section named 'Account' and click the link called 'Users & roles' underneath it.
You will now see a list of all your active and inactive users arranged in roles.
Click the button called 'New user'
There's two paths to take here, adding a single user or adding multiple users at once:
Adding a single user
After clicking 'New user' a new page with the user information is shown. Enter the details for your new users and set the roles and access permissions you would like the user to have.
When done, click the 'Invite users' button that appears in the bottom of the browser window. The user will then get an email to the email adress you've entered in the details from which he or she can set their own password etc.
Adding multiple users at once
Inside the page where you can add a single click the link in the right part of the page called 'Add multiple users at the same time?'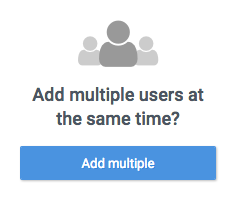 Enter the email addresses of the users you'd like to invite and set their roles and access permissions. These users will get an email notifying them of your invitation from which they can set their own details, like passwords etc.
To send the invitations, click the 'Invite users' -button that appears at the bottom of the browser screen.
Maximum number of users already used
Each Upsales plans have a maximum number of included users. To add additional users not included in your plan please contact Upsales Customer Success to help you out.