There are two different ways of approaching sending emails in Upsales. The one-to-one email which works like any other email service, you select a sender,recipient(s), compose your message and click send. The other one is called email campaigns and gives you more options regarding your recipients and the design of your email template. This article will explain the basics of the one-to-one emails in Upsales.
Video 3.02: How to send one-to-one emails
Where do I compose my one-to-one email?
There are multiple places to start composing your email inside of Upsales, but the one always accessible is located under the main plus-menu in the top left corner of Upsales.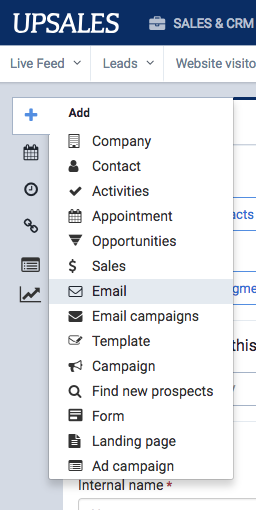 One-to-one emails can also be composed from inside the contact page. Find the envelope icon at the top right corner of the page:

Where can I find the sent one-to-one emails?
The one-to-one emails sent fron Upsales are all located inside the tab called Sent emails in the sales section of Upsales. You can also head to the contacts page and check their timeline to view all emails they've received.

The list is automatically filtered to show your emails. To change this, open the filter menu and select more users.
The listing also let's you view if your recipient(s) opened or clicked a link inside of your email.
Read more about scheduling emails
How to send your external emails to Upsales
Tracking one-to-one emails
All emails sent from Upsales will let you track if your recipient(s) have opened and clicked a link in your emails.