If you want to tweak and create new Explores/reports from existing ones in Insights, you can follow these simple steps to add the new Explore to your own dashboard.
1. Start by copying an existing Explore
Go to a dashboard that you want to copy some of the reports and save as new ones. Press the three dots in the upper right corner.

2. Go to explore from here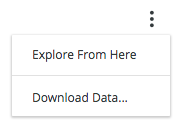 3. Save as new report
Make your changes and then press the cogwheel in the upper right corner. Now you can save the report as a new report without changing the original report. Save it to one of your other dashboards or you can save it as your own look/report. You can also do this procedure to our Upsales Standard Dashboards.
Good Luck!