We've summarized five best practices on what to think about when setting up your company database in Upsales.
1. Get it right the first time
When implementing Upsales there's no need to bring old and outdated data into the system. Take time to review and clean your database before importing it into Upsales. Tips:
Don't delegate the data cleaning to the end user. If data in Upsales is bad when they log in the first time the first impression of the system will be bad and data quality will most likely stay poor.
Use a third-party data source, like Bisnode or Vainu, to update and add additional data to your account database.
2. Don't clutter your database with irrelevant companies
Avoid the "1 million target group" syndrome and import only companies within your target group.
If a company isn't a customer, previous customer, active prospect or in your target list there's no need to have it in your Upsales account.
3. Encourage and train your users to keep their portfolio clean
Keeping your database updated and clean is a continuous job that will rely on the end user's ability to keep their portfolio clean. Encourage and train them how to:
Update company and contact information
Tag important stakeholders for each account
Enter data for segmenting
Remove unwanted companies from their portfolio, i.e. bankruptcy companies, companies that's not within target list etc.
We recommend that you create a one-page Upsales user guide explaining the minimum information that needs to be entered and why this information is important.
In addition to this, you should on a regular basis update your database using the Bisnode or Vainu integration since information such as credit rating, financial results, and addresses are ever changing.
4. Keep your segmentation simple
Try to keep segmenting as simple as possible!
What parameters do you really need to do targeted campaigns and to build the reports needed? If the users have too much information they need the enter they will skip it or fill in random data just to be able to continue.
Use triggers and automations to automatically get correct classifications of companies. I.e mark as a customer when an order I closed.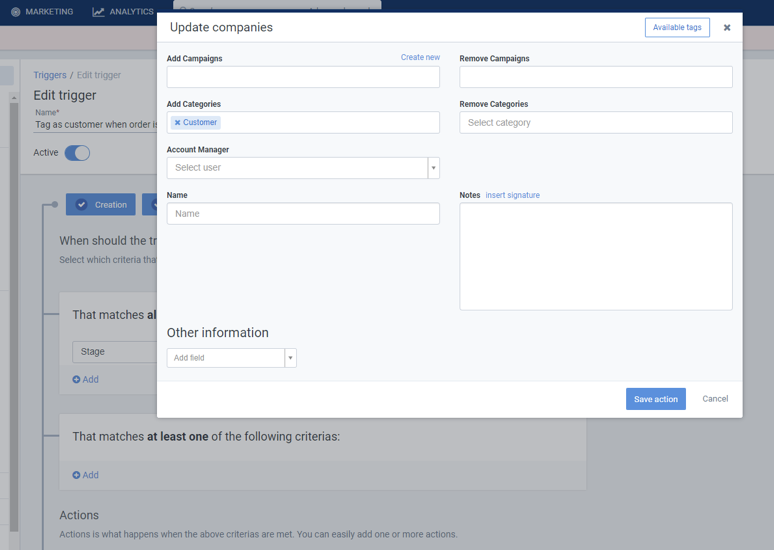 Learn more about triggers here.
5. Don't bend the data model, it's there for a reason
Make sure you fully grasp the difference between custom fields, campaigns, and categories before you start configuring your Upsales account. As an example, you can use extra company categories to get a multi-select field instead of adding multiple checkbox fields for the different options.