With our native apps for both iOS and Android, you can easily decide if an incoming call is important by seeing the callers' contact data that is associated with the callers' information in Upsales. Take action by creating new activities, appointments, orders or opportunities directly on the callers' contact information in Upsales.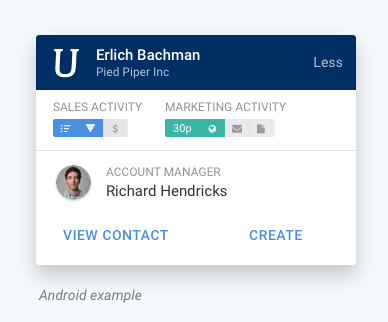 So, what do you need to do in order to use this function?
Install the Upsales app from App Store or Google Play on the device you want to receive caller contact data on.
In order to see the contact (and company) who is calling you, you need to have the contact saved in Upsales, and the contact has to call you from the phone number that is stored on the contact in Upsales.
Android
When installing the app, Upsales app will ask you to give permission to manage your phone calls. If you denied permission, you can change this in settings > apps > Upsales > competence > and choose phone.  
iOS
When installing the app, iOS will ask you if you want to use Call-ID and this will be enough on most iPhones. But on some versions of iOS, you have to go to settings > phone > identify and block calls > and toggle for Upsales.
You also have the call-id settings in the app. You find those by opening the menu to the left and tapping the cog wheel icon.
In those settings, you can choose to turn call-ID on/off, how often you want to sync your contacts and choose if you want to sync the new information with mobile data or not. If you choose not to sync with mobile data, the contacts will only sync when you have a Wi-Fi connection.