This is the place where you gather all your contacts inside of your event. Contacts can be added to your guest list in two ways, either selecting a Segment containing the contacts you want to attend your event or selecting the contacts one by one.
Adding contacts to your event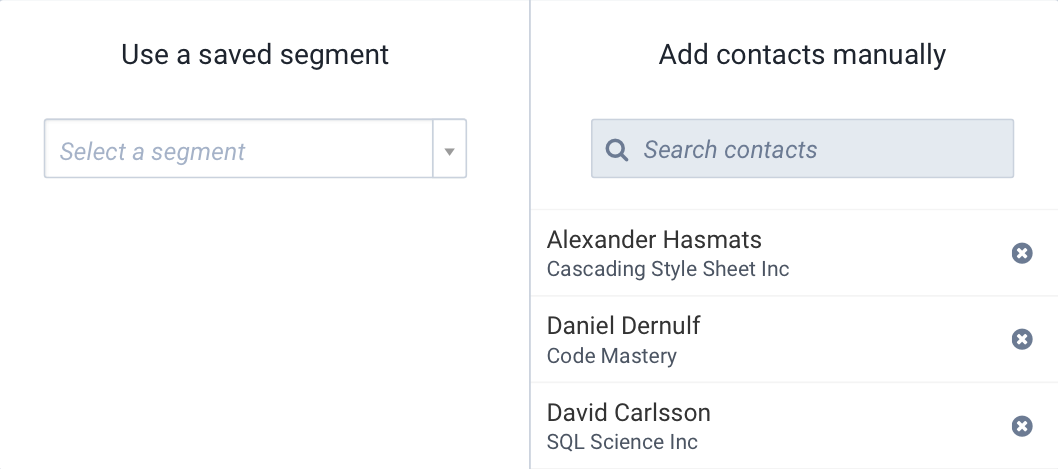 Adding a segment to the guest list
Segments is dynamic lists that automatically imports/exports contacts in to it self depending on  criteria you entered. The dynamic import/export feature is disabled inside of Upsales Events. So a contact added to your event will stay in your guest list even if it's removed from the segment. The simple reason for this is you don't want to remove a contact from the guest list if they've already received your invites, or if they've signed up.
Adding contact one-by-one
It's pretty straight forward. Inside the guest list tab click the "Add contacts" button and search for the one's you want to add.
Adding contacts to a launched event
In your guest list tab, click the "Add contacts" button and select either a Segment or pick contacts one by one.
If you'd like to set the new contacts status as attending right away toggle the checkbox saying "Set contacts status as attending right away". The contacts you add will then skip your invite emails and receive their booking confirmation email right away. If you've planned more resources the new contact will receive these as the rest of your guest list.

Removing contacts from your guest list
Since the dynamic feature of Segments is disabled inside of Events all contacts that you'd like to remove has to be done manually.
Removing when the event is launched
Not available right now, but you can change the contact status to "Declined". This will disabled all planned resources from being sent to this contact.

Checking in contacts and changing their event status
In your guest list you'll find a column named "Status". This tells you the status for your contacts, if they're invited, has signed up or has declined. And after the event is finished if they attended or not.
How to know if your contacts attended you event is done by changing their statuses to "Checked in" by clicking the link in the right part of their rows.

Checking in can either be done in the guest list or the Check-in mode