When opening your channel and selecting a slide from the left-hand menu, the slide contents are displayed. A sample is illustrated below. Refer to the descriptions below for more information about the options.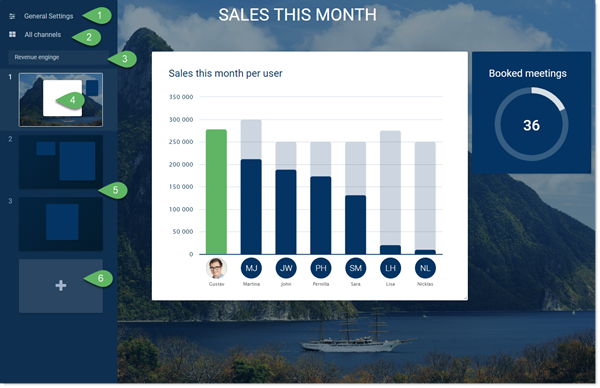 To resize a widget on the slide, select the corner of the widget and drag to the desired width and height.
To move a widget on the slide, select the widget and drag it to the new location.
Applying Slide Settings
The Slide Settings determine the background appearance of the slides in your channel. You can add multiple slides to your channel.
The Slide settings appear for the first slide when you create a new channel or when you create a new slide in a channel. You can also edit slide settings.

To change the Slide Settings, complete the following steps.
Enter the Title of the slide to show when this slide is displayed.
If desired, enter the URL for a Background image to show on the slide. If you leave the field blank, the slide will show the selected Background color instead.
Select the Opacity on the image using the slider or by entering a percentage.
Click on the Background color field to select a new background color from the color picker.