Give your sales team a set of steps to follow on the path from lead to sale. Include the necessary steps that need to be checked, and make sure you're involving relevant decision-makers. Customise the sales board and opportunities, and in just a few clicks you have a tailored sales process.
This article covers:
Basic and Pro
There are two Sales process versions to choose from:
| | |
| --- | --- |
| Basic | Pro |
| Get sales coaching recommendations | Get sales coaching recommendations |
| Control which stages to display the sales process checklist | Control which stages to display the sales process checklist |
| - | Add custom title categories for contacts |
| - | Option to switch between custom title categories and pre-built Stakeholder categories |
| - | Option to set decision-maker buy-in as 'required' before a sale can be recorded |
How to create a Sales process
Click Settings → CRM → Sales process
Under Sales process, click Create new:




Give your Sales Process a name and whether you want to restrict it to specific roles:




Toggle to define the stakeholders involved:


When you've finished, click Save & close:




Now, when you create or open an Opportunity you can add the stakeholder names. Click Show more: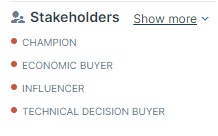 Then click Add contact to and search for the person:

Adding multiple companies to your opportunities
In some sales processes, you may find more companies involved than just you and the buyer.
A common example is a media agency of the customer, or perhaps the invoices should be sent to another company than the one you are selling to.
Customising card layouts in your Sales boards
You can also customise the cards in your Sales boards:
Change which values are displayed in your sales board card (for example order value, ARR, close date, user)
Change which value goes where in your sales board cards
How to enable the Sales process add-on
How to use Upsales Sales Coach
This feature is coming soon
You can also create a customised checklist for your sales team to follow. These can be recommendations that guide users or roles on the journey from leads to sales.
Click Settings → CRM → Sales process
Under Sales coach, click Create new:




Give your process a name, and choose if it's for specific users or roles:




You'll then see a list of default checklist items:
- Always having a next step
- Verify budget
- Verify our solution
- Identify decision-makers


Click to toggle these off or on:




Under the Shown in column, you can click to choose which stage of your Sales board each checklist item appears. Click At a specific stage and then tick if it's required:





Click Next to review and then save to finish
Now when you create an Opportunity, you can enable the Sales coach process:


The checklist items now appear in the Opportunity's Tasks tab, depending on the Stage chosen in Step 7:




Where the checklist says Plan a next step, hover over and click to plan a call or book an appointment: