An introduction into how you can keep track of important data and KPIs with this powerful tool.
With Insights you can:
See how your organisation is performing

Get detailed reports covering your sales and marketing statistics

See how long it takes to close an appointment
See purchasing behaviours
Create reports and forecasts for your organisation's performance

Schedule automatic emailing of reports to other emails, Slack, Teams, and other systems.
50+ reports
Insights is a Business Intelligence service built by Looker (Google). With Insights, you gain access to 50+ standard reports that cover the majority of your follow-up needs. To turbocharge your reports even more, we offer consulting services.
Favourite reports
To mark a dashboard as a favourite, select the heart icon to the right of the dashboard name:

Create reports
Select a Default data model or Custom data model to start building your Insights dashboard. You can also use the Dashboards tab (previously called Explores) to start building a dashboard: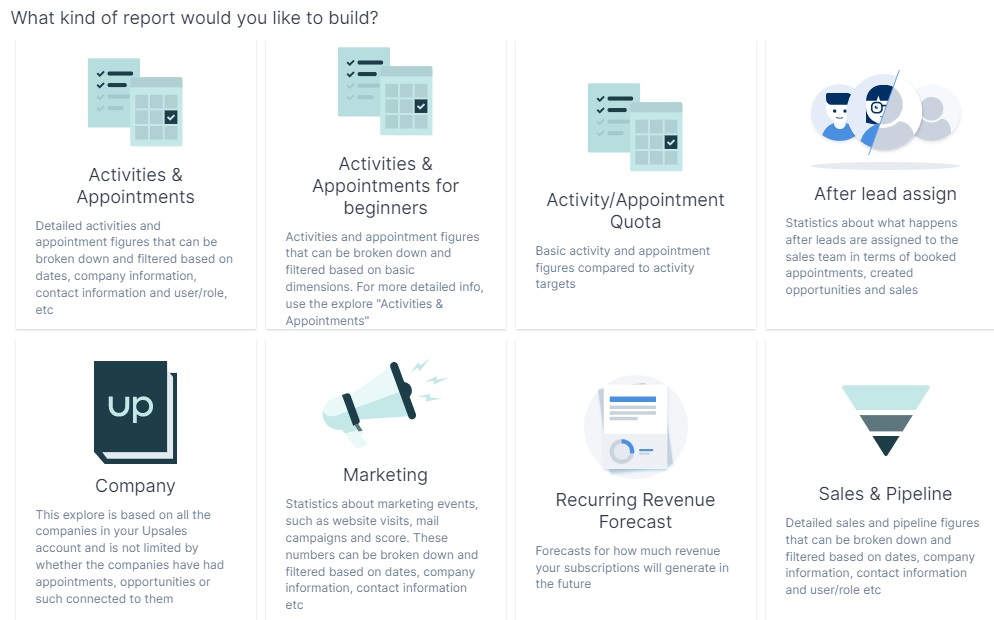 Uncovering patterns
Companies use Insights to understand best-performing lead sources, find the most qualified leads, and identify what works and what doesn't.
Multiple sources
Another big advantage is that you can connect Insights to several data sources, for deeper analysis. For example, combining your financial and business system with your project management and time reporting.
Key elements
Within Insights you'll be using Looks, Dashboards, and Explorers.
Looks: These are reports
A look is synonymous with a report.

A report can visualise reports, such as table chart, bar or line chart, a single value, and many more in several ways.
Dashboard. A collection of one or more Looks
Here's where you bring all your KPIs into one space, to be visualised either separately or combined.
Explorers. A menu from which you can see select your fields when building a report.
Explorers are split up categorically, to keep everything nice and organised.
Resources
There are several videos on how to use Insights:
(Swedish)
(English)
Insights terminology explained