Automate your bookings, reduce the hassle of finding a suitable time, and minimise no-shows.
With this feature, you set your availability. Then simply send your booking link to your contacts where they can select a date and time that fits both them and you. Booking meetings made simple.
This article covers:
How it works
Each user sets their availability in Upsales and a booking link for each user is generated to be shared with contacts.
Contacts enter the page, select a date and time, and book an appointment.
The appointment is automatically added to Upsales and your connected calendar service.
The video has more information:
How to activate
Make sure your Google Calendar or Office 365 Upsales app is synced.
Click Settings → My profile → Easy booking:





Toggle the "Activate Easy booking" to on.





Customers receive invites via the regular Google/Office365 workflow. You, as the appointment owner, get an email and notification (web and mobile) from Upsales
Customising booking page settings
To make your booking page more personal you can add a title, agenda, and personal contact information.
If the title and agenda fields are empty they won't show. You can also choose whether you want your personal details, like email and phone number, to be displayed.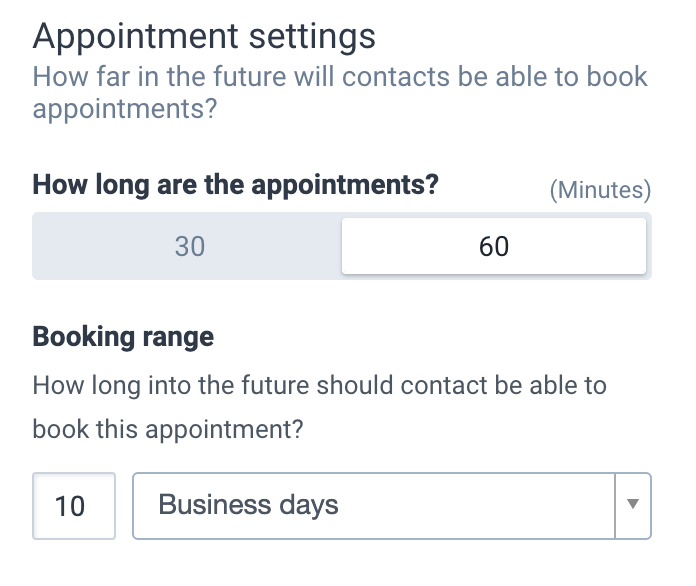 Appointment length
These settings will show either 30- or 60-minute slots on your booking page. Every meeting has a 15-minute gap. A meeting booked 13:00–14:00 means the next available appointment is 14:15.
Booking ahead
By default, users can book up to 10 business days (Monday–Friday) ahead. This is to reduce contacts booking appointments too far ahead, which are more likely to be moved/cancelled. However, you can extend this beyond 10 days.
You can also open up for bookings on Saturdays and Sundays by selecting "All days" in the dropdown.
Setting your availability
By default, all your calendar days are available for bookings. Already got a planned appointment in your Google/Office 365 calendar? That time slot will automatically be disabled from bookings on your booking page.
You can set your availability using:
One-off
Block specific dates and times
Recurring
Block repeatable dates and times, like "Every Wednesday 08:00–12:00".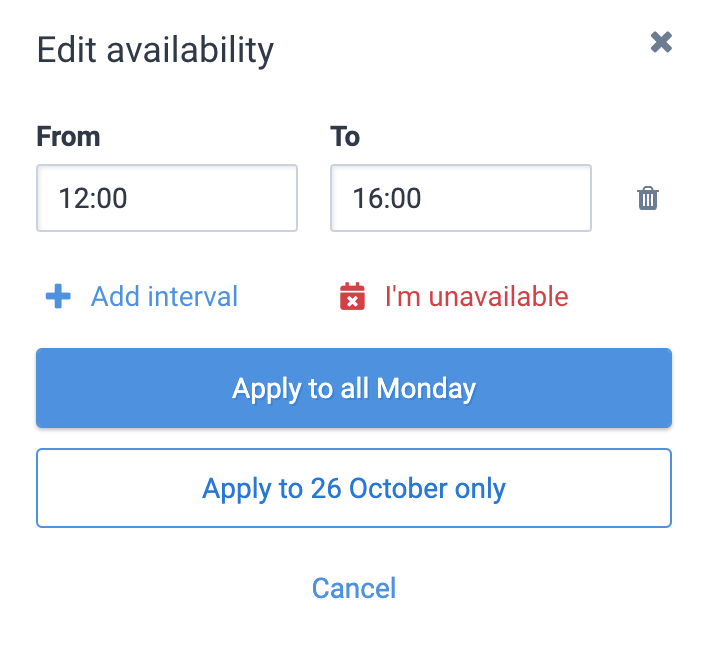 Where to find your booking link
Two places:
When you save your settings you can copy the link for sharing, and also visit the link:




The appointment list header:


What happens after a booking is made
When activated for a user the booking link is made public and contacts can book appointments with you. When a contact books an appointment with you it's automatically added as an appointment in Upsales and you will be notified inside of Upsales and by email about the booking.
Time zones
The time zone displayed on the booking page is fetched from the visitor's web browser.
Company logo and branding
The logo is shown in the top-left corner. The image used is the same as added in the company profile.
The booking page contact form
When a contact books an appointment with you they need to fill out some fields in order to identify them.
This is so Upsales can check if they're in your account and minimise duplicates.
What to do if you can't see your booking
Same domain?
If you and your participants have the same email domain (your.name@example.com and other.participant@example.com), the Google/Office365 Calendar doesn't synchronise appointments to Upsales. How to manage meetings with the same domains.


Seeing appointments in Upsales but not in Google/Office365?
Appointments made in Easy booking won't exist in Upsales if they haven't been in Google/Office365 Calendar first.

Did someone cancel the meeting?
When a participant cancels a meeting, this still shows in Upsales. That's because the Google/Office365 integration does no delete appointments, How to change/delete appointments
More support
Please contact support@upsales.com.