The To-do list is a view that is aiming to simplify your daily work in Upsales. It lists what you need to do, with whom and when to do it, sorted in a way so you can focus on what's most important to do next. It might be a phone call, a To-do, or an appointment.
This article will cover
This is a free upgrade to activities. Once activated, all open activities will become phone calls and can not be reverted.
How the list is sorted
The list is sorted based on a few parameters so that the most relevant items are the first thing in the list.
First items that are closest in time. This can be a phone call, to-do, or an appointment. Items that are related to an opportunity will be prioritized.
Any form conversions or a "Hot Lead". These are always a phone call.
Items that have been flagged as "High prio". These are also always a phone call.
Then any item that is related to an entity that has the journey status of Pipeline or Customer.
And lastly any item without a date or time.
Filter the view
The list shows you what is planned for today, tomorrow, and this week, as well as your leads. On the left-hand side of the screen, you can toggle what you want to see. For example, if you only want to see appointments you have planned for tomorrow, simply click tomorrow and appointments.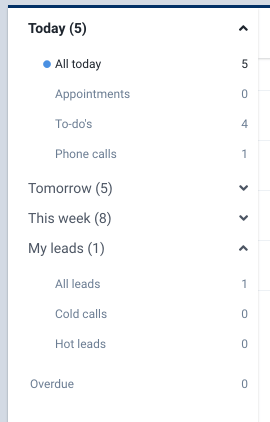 My leads
Under "My leads" you can toggle the view to only show Cold calls or Hot leads. The difference between these two is that cold calls are calls with companies or contacts that:
Do not have the journey status Pipeline or Customer
And the outcome has never been set as reached.
Hot leads are calls that are generated from an event, form, mail campaign, flow, or from an Assign action.
If you missed completing Phone calls or To-do's with a due date, those can be found in overdue filter.
How to create new items
From the right-hand side of the screen, you can create new phone calls, To-do's, or book new appointments by clicking the Create new button.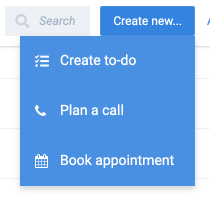 You can also create items from the plus icon on the left-hand side of the screen as well as from company or contact cards, outcomes, and opportunities. Individual phone calls can also be created as a form action or from triggers and automations.