When you have tasks that are not directly related to a phone call, you can create a quick and easy To-do instead. These are a type of checklist that can be related to an opportunity, contact, or company.
This article will cover:
This is a free upgrade to activities. Once activated, all open activities will become phone calls and can not be reverted.
Creating a To-do
Say for example that you have administrative tasks that you need to do. It can be preparing that offer, build an email campaign, or remember to follow up on those meeting minutes. Then a great and easy way is to create a To-do.
The simplest way to create To-do's is either to create them from the To-do list or from the plus icon on the left-hand side of the screen.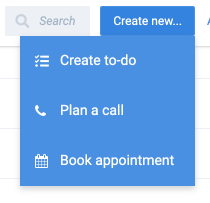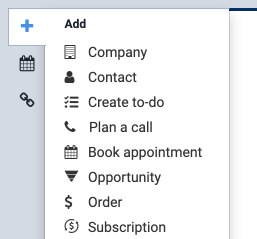 Simply add the goal of the To-do and hit create and you are done. If you want to create several to-do's at a time, click Save & create another one. A To-do doesn't have to be related to any company or contact.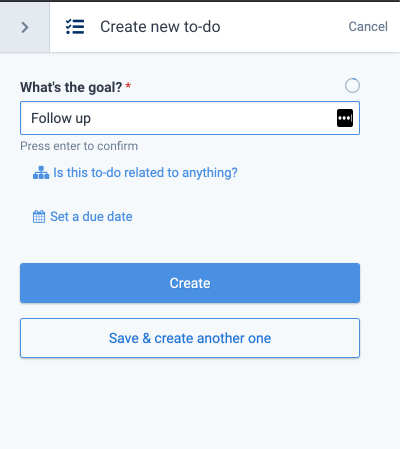 If the To-do is related to any opportunity, contact, or company you can add that relation. The To-do will then be visible on those entities. Also if the To-do has a due date, simply add that and it will be sorted amongst phone calls and appointments on the To-do list closest in time.
Working with the To-do list
The To-do list displays all your unfinished to-do's today, tomorrow, and this week. It is a sort of checklist so once you have completed a To-do, simply check the checkbox. To edit a To-do, click the wow instead.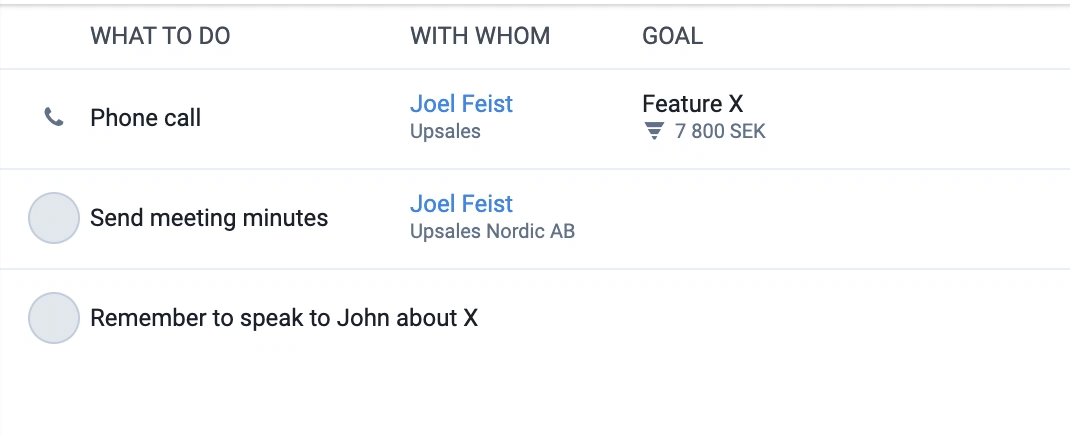 Creating To-dos from an opportunity
To save you time, you can create phone calls, To-dos, and book appointments directly from an opportunity. When creating a To-do from an opportunity, it will be related to the opportunity and is visible from the To-do list and contact or company cards. In this way, you can always create next steps to drive the deal forward and increase the chances of closing.
To mark a To-do as done, simply check the checkbox.