Discover leads with key information like financial statements, board of directors, industries, and addresses. All by using the Company Data Hub add-on.
Using the Prospecting BASIC add-on? Please view this article.
Not using the Company Data Hub or Prospecting BASIC add-on? Here's how to find new prospects with Bisnode.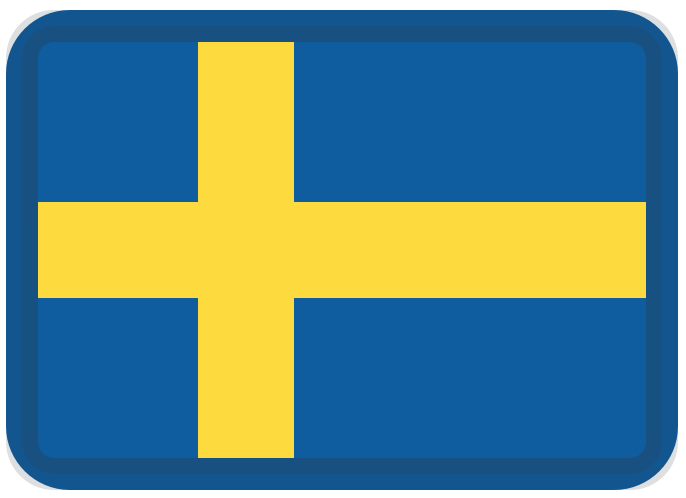 The Upsales Company Data Hub database contains Swedish companies.


This article covers:
Where to find Company Data Hub
Click Sales & CRM → Find new prospects:



Leads already in your database
You'll see a set of recommendations for different types of leads. These range from lost customers to companies you added but never contacted:

Try to process these ones before moving on to finding new prospects.
When you're ready to search, click the Start Prospecting button: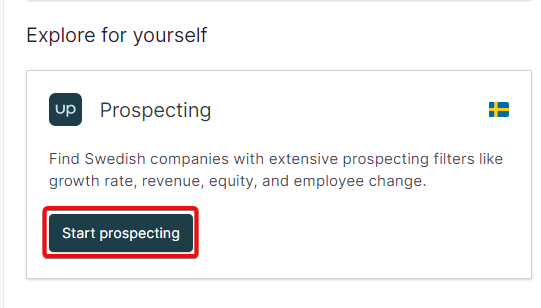 AI-recommended leads
This connects your account to the Upsales Sales AI. Then it researches your sales history to recommend you data-driven leads daily. Click Recommended leads to view company types:

These will include companies that are:
Start-ups in your top industries
Similar to your biggest customers
Most profitable in your top industries
Hiring at a fast rate in your top industries
Click to choose a company type:

Upsales will show you a list of companies that match your chosen criteria. You can either select all companies or click to select individual companies:

Selected companies appear in the Selected tab: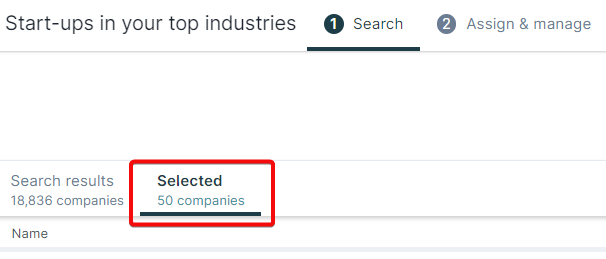 Click Assign & manage tab to plan contact with them: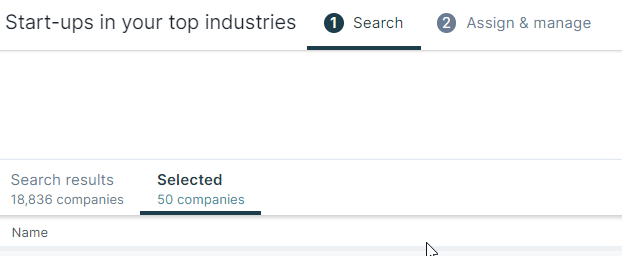 Creating custom searches
Still want to create custom searches in the database? Click the Start prospecting button: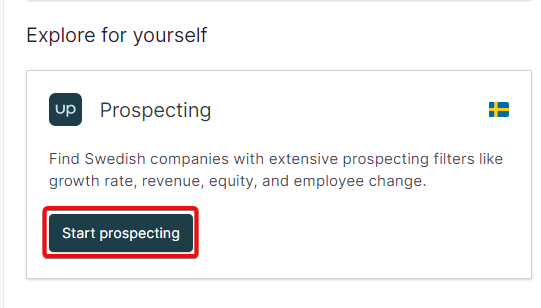 You'll see a range of filters to include or exclude companies. These include:
Boards of directors
When adding companies, you receive any board members of those companies. Board members are then available inside the Contact tab on the companies page.
Time-saver: Employees with CEO in their job title (including external CEO or vice CEO) are automatically added to contacts
How to work with Board of directors data


Financial statements
When adding companies, you also receive the company's financial statements.
These include key figures, income statements, and balance sheets. The tab is available on the companies page inside Upsales.
How to activate Financial statements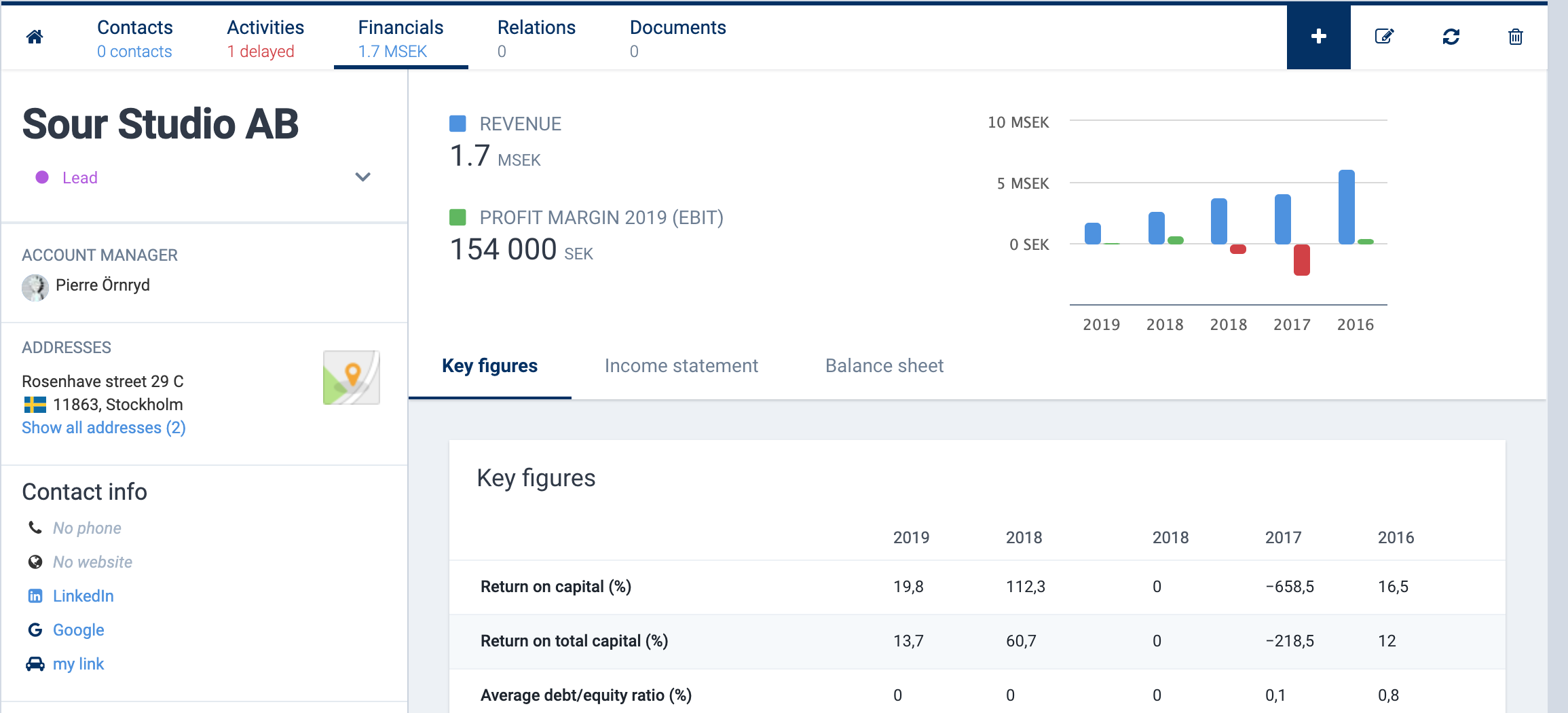 Keywords

Upsales crawls company websites to see which words and phrases are being used. For example on the home page or in the meta description.
Enter a keyword or phrase, and Upsales compares your query with what's been crawled.
Any company matches will appear at the bottom of your screen, ready for you to review. Results that are the closest match to your keywords will appear first.
Click the blue box to toggle between matching all or any words:

Corporate form
Each company is registered with a corporate form. Add one or multiple company forms to filter your search.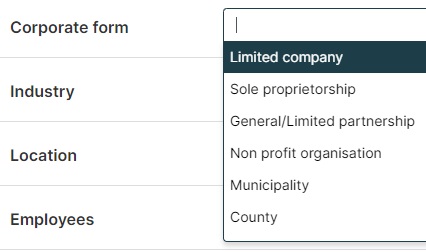 Industries
Use this filter to only display industries containing companies you've previously sold to: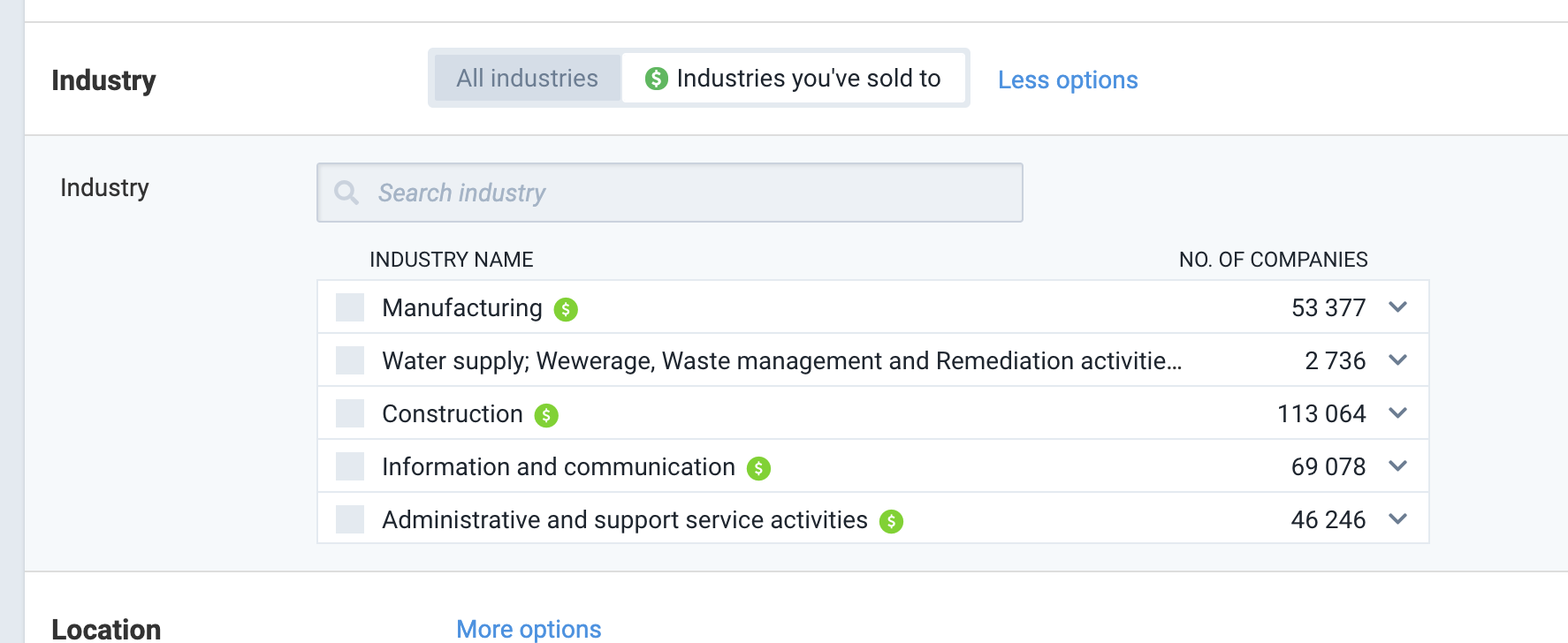 Select the industries you want to filter your search.
Location
Only interested in companies in specific cities or streets? Well, jackpot.
Tip: You can also add multiple series of postcodes:
Employees
This filter can help with targeting different-sized companies. The change in employees filter can also be used to find companies growing fast, based on their hiring rate:

Company financials
The Revenue filter is available in Prospecting BASIC. Pro gives you advanced financial filters, including EBITDA, profit margin, equity ratio and more.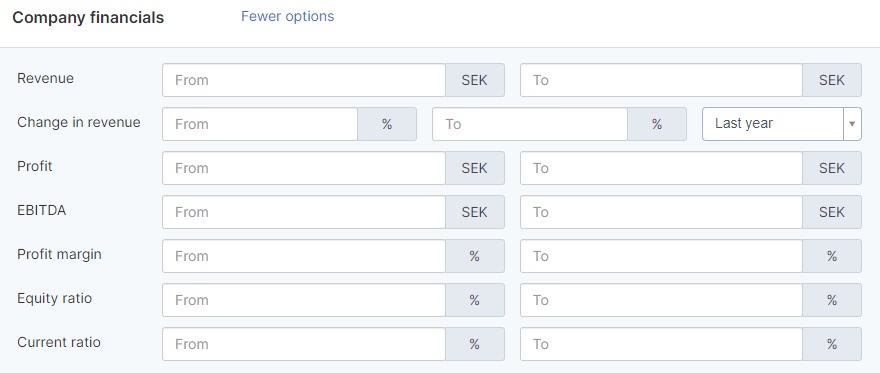 Founded
Only want results for start-ups or mature companies? This filter narrows your results:
How to use the filters
All/any
Click the all/any filter to include companies matching all or any of the filters:

Click the X to remove a filter from your search:

To add the filter again, click the button underneath your active filters:

This opens a dropdown where you can add the chosen filter: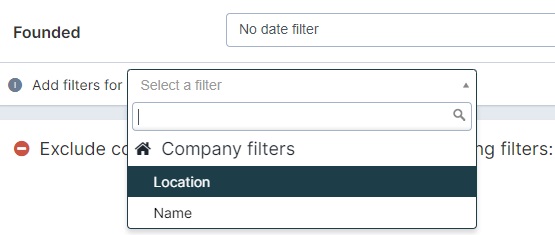 You can also use the filters to exclude companies.


You can also save the list by clicking the button next to Find new prospects:

Adding companies to your prospecting list
When clicking an AI recommendation or creating your own custom search, you arrive on the search results page.
Results are sorted by name as default (except keywords, which are sorted by relevance). However, you can sort most columns in the list.
Selecting companies
Click the Select button to add these companies to your list:

Companies you select are added to the Select tab
To make multiple searches with different filters, companies you select are placed in the "Selected" tab. That's where you can also remove them from your selected list.
Company groups
Under this column you can click to view related (such as subsidiary) companies:



You can then see the related company details at a glance, including headquarters, number of employees, revenue, plus any journey status and attached account manager.
When you've chosen your companies, click the Assign & manage tab to distribute these to your team.
Assigning & managing prospects
You might want to allocate newly added companies to your sales team.
Click the Assign & manage tab and you can choose who will plan a call:

Plan a call with the companies
This action is active by default. Toggle to change this to off. If the phone call has a due date, you can add this manually. You can also place the call in a Call list.
More about phone calls
Assigning team members to the companies

Use the toggle buttons to:
Set the user as account manager
Email users about upcoming calls with companies
Give to assigned user
This is for already planned activities or phone calls. The assigned user will receive a new planned call.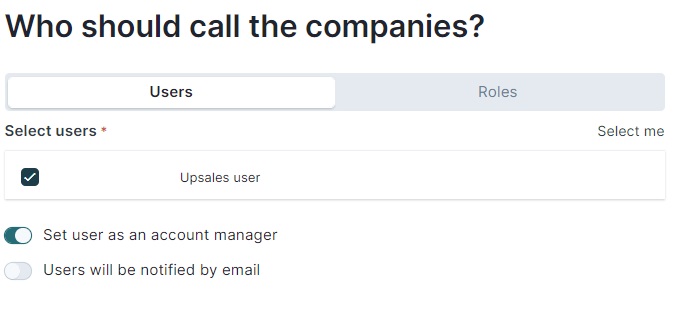 Add company data
This feature enables you to add more data to the companies from your custom fields. You can also add the companies to campaigns or categories.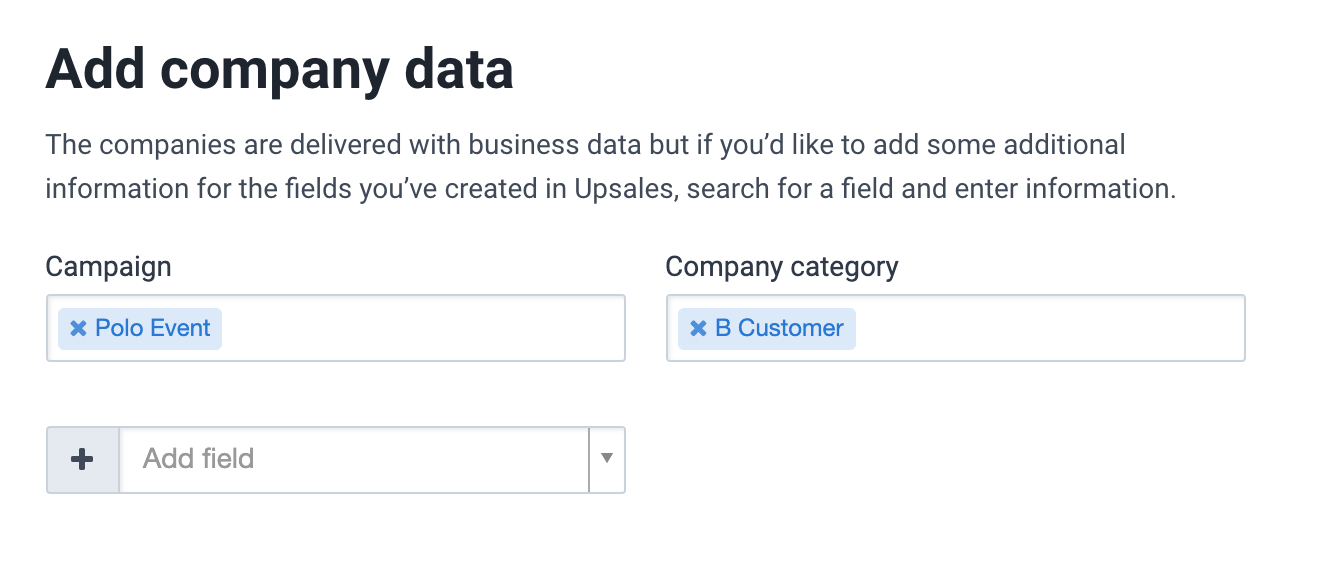 Adding companies to Upsales
When done, click the button in the top right corner to start adding the companies to your account. If you are adding a lot of companies this might take a moment.

How to receive company updates on your prospects (Signals)
You can also set up alerts whenever there's activity within one of your prospect companies. For example, a change in structure, reporting financial results, or general news.
This is with the Prospecting Signals add-on, available on its own or bundled with Company Data Hub.
How to activate the Company Data Hub