The Contacts list gives you an overview of information about a specific and allows you to easily access additional information for each contact.
Video 2:34 How to work with companies and contacts
This article includes information on:
Also see (related articles):
Opening the Contacts List
To view companies, select Contacts under Sales & CRM on your Upsales Home page. Or complete the following steps:
Select the Sales & CRM tab.
Select the arrow next to Companies & contacts.




Select one of the following:
a. My contacts - for a list of contacts you have added to Upsales
b. All contacts - for all contacts added by your organization
c. Saved contacts - for any of your saved lists
The list of contacts you selected is displayed.
You can also toggle between the Company and Contact list using the Company/Contact buttons at the top of the list.
Viewing the Contacts Lists
The Contacts lists provide an overview of information about your contacts.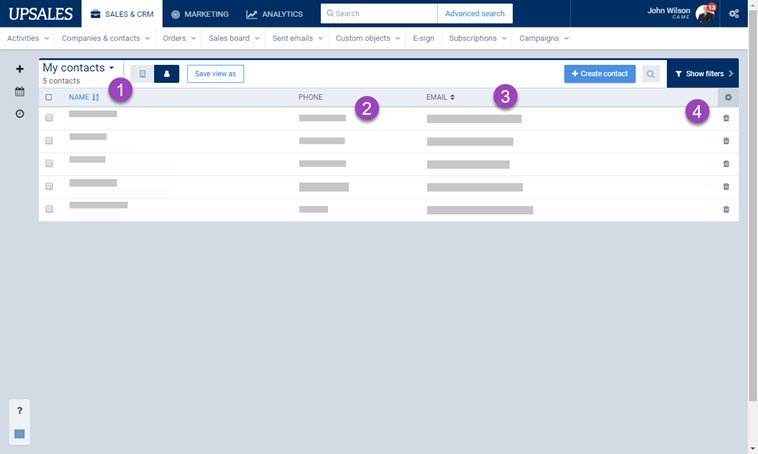 Name - opens the contact card to the timeline
Phone number - opens the phone number in your associated calling app
Email - starts a new email to the contact (if you have activated Upsales email)
Delete - removes the contact
To find a specific contact in the list, enter the first few letters of the person's name in the Quick Search field at the top right.
To customize your Contacts list, you can:
- Sort the list
- Customize the columns shown for the list
- Filter the list
Once you have customized a list, you can save that view to return to it easily later.