Once you've opened a segment, you can adjust the criteria for defining which contacts to include or exclude in the segment at any time.
To define a criteria, complete the following steps:
Choose whether this criteria defines companies and contacts to Include in the segment and/or Exclude from the segment. 
Change the All/Any toggle to define how your selections will be included. When using Exclude criteria, we recommend using any when you want to exclude contacts that match the selected criteria.

Select (under Include or Exclude) either the Contacts or the Companies button.
Select a criteria from the drop down list. Note that once added, some criteria allow you to toggle between Is/Is Not for that criteria. 
Enter the detail for the selected criteria. Some criteria allow you to select More options to enter additional information.
Repeat to add more criteria.
Select Save.
Here is an example of criteria to include contacts.

Here is an example of criteria to exclude contacts.

The Contacts tab updates with the number of contacts currently matching the segment filters. Matching contacts are shown below the segment criteria. (You can hide or show the segment criteria.) The contact information is similar to what is available on the Contacts list.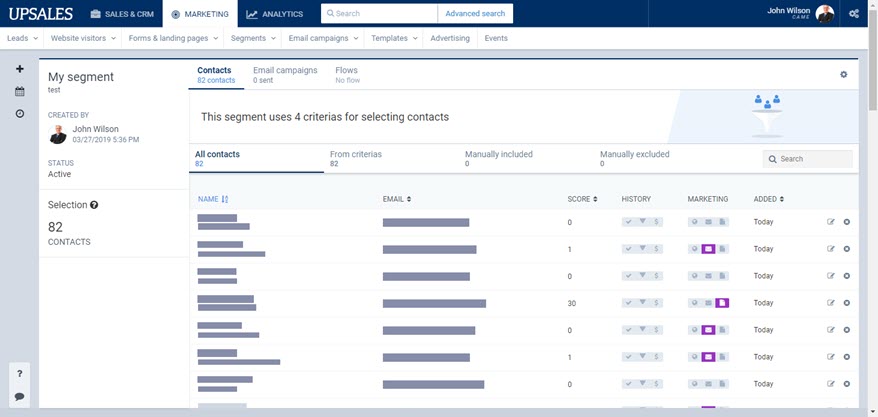 Remember that this specific list of contacts may look differently as time goes by, since the segment is dynamically updated to add or remove contacts based on whether they meet the criteria at that time.
You can also manually remove a contact by selecting the X at the far right of the contact.
Now you are ready to use the segment in your email campaigns, events or flows.