There are some parameters to consider for setting up a flow with time between each email.
First, when creating the new flow, consider whether you will send out emails only on working days, or if weekends are included.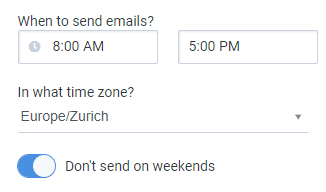 You can set the snooze between each email as 7 days, but then note which day of the week the first email is being sent. If it is sent over the weekend, and the Don't send on weekends option is enabled, it will be delivered on Monday, as will the remaining emails in the flow (with a snooze of 7 days between each). If you don't have the Don't send on weekends option enabled, make sure to send the first email on the day of the week you want the other emails delivered.