Please note that the default sales board available is currently not editable. To customize it you will need to create a new board and then add which stages for it to include. Here's how:
Finding the sales board settings
As mentioned above, the default sales board currently can't be edited so you will need to create your own:
Make sure you have the permission of Administrator to be able to view these settings
Select the Settings icon in the upper right corner of your Upsales screen.
Select Settings.

From the left-hand menu, select the Sales board from the CRM section.

Create a new sales board
On the Custom sales boards screen, select + New sales board.

Enter a Name to identify the sales board.
Turn the Default toggle on if this sales board should show automatically when users navigate to the sales board screen.

Specifying the columns your sales board should contain
You can select how many columns you want on your sales board and what they should list. Select from order, opportunities, or appointments.
1. Select stage type
For each stage you create in your sales board you can select what type of things it should list:
Orders
Opportunities
Or appointments
2. Name your column
The name is displayed in the top section of your sales board along with the sum of the column.
3. Selec which types to list
Depending on if you selected that your column should list appointments, opportunities, or orders you can now specify which types of appointments, opportunities, or order to show.
If stage shows opportunities: Select from the different types of opportunity stages here (based on probability: 1-99% stages are counted as opportunity stages)
If stage lists appointments: Select from the different types of appointment. Usually a column only showing first appointments is the most commonly used)
If stage lists orders: These are either lost or won stages, meaning they have a probability or either 0% or 100%.
4. Select time period
This option lets you sort out older things, like only displaying opportunities created in the current month for example. By default, the column will be set to display all-time.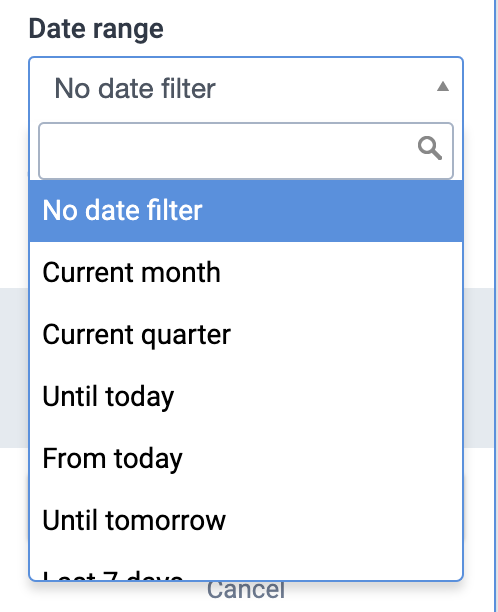 5. Sorting things in your column
This option lets you define what the card in your column should be sorted by. Like sorting opportunities based on their value, or sorting appointments based on their date.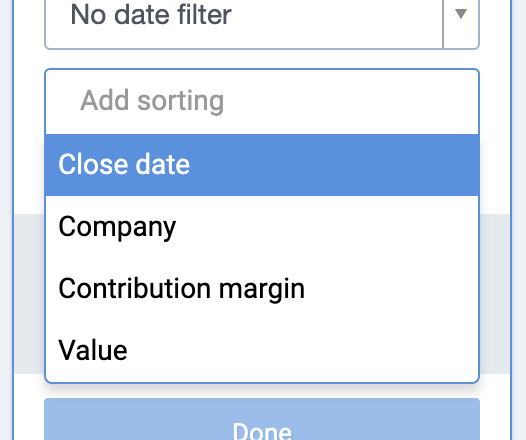 To sort what shows on this sales board, select +Add sorting and chose the sorting option from the drop-down list.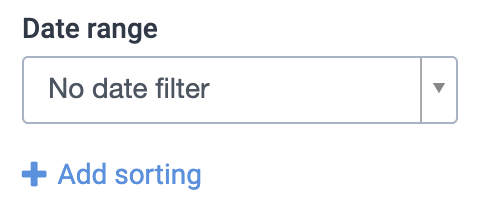 Setting column image
To include an image on this column select + Select image and navigate to the image you want to use.
Select Done.
Repeat steps 7-13 for additional columns.
Once you have finished adding and defining the columns, select Save.
Now the sales board will be available for users either as a default or to select from the Sales board views.