You can control your reminders for activities or appointments to determine whether you receive them and when they are sent. When you receive a reminder, it shows in the bottom right corner of your screen and you can select the link in the reminder to open that activity or appointment.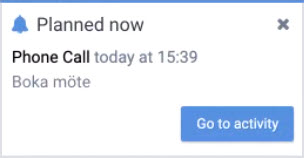 The Notification center also allows you to control whether you see your other notifications.
Please note: Disabling notifications in Upsales Web Notification Center also disables the same notification in the Upsales Mobile app.
This article covers:
Opening the Notification center
To open the Notification center for updating your reminders and notifications, complete the following steps:
Select the Settings icon in the upper right corner of your Upsales screen.
Select Settings.

From the left-hand menu, select Notification center from the My profile section.

Changing Activity and Appointment Reminders
To change your activity and appointment reminders, complete the following steps:
Select the Time you want to receive the notification. You can choose to receive the reminders directly before the activity or appointment, or you can select a number and Minutes or Hours to have the reminder show that amount of time before the activity or appointment.

Make sure the Send Notification box is checked if you want to receive this reminder. If you do not want to receive reminders, uncheck the box next to Activities or Appointments to stop receiving those reminders.
Select Save after making any changes.
Select Preview to see a sample reminder.
Disabling or Enabling Notifications
You can control whether you receive the following types of notifications:
Appointment outcome
App directory
Assign
E-sign
Form submits
Import
Sales
Subscription
Website visits
To control whether you see categories of notifications, complete the following steps:
To stop receiving the notifications, uncheck the Send Notification box next to the type of notification you want to stop receiving.
Make sure that the box(es) are checked for any notifications that you do want to receive.
Your changes are immediately saved.