When using the Upsales Gmail Chrome extension, you can create an email in Gmail and sync the information to Upsales.
This article covers:
What happens when you sync
Send emails from Upsales using your Gmail account. Sent emails will then appear in your sent folder inside Gmail. Please note: opening a sent email in your Gmail means Upsales registers this an open event.
Log your emails from Gmail into Upsales (with the Upsales Gmail Chrome extension)
Track recipient actions. See if they've opened or clicked the email in Upsales

Speed up and scale your prospecting by customizing and sending one email to up to 100 recipients (bounces appear in Gmail, not Upsales)
Activating the Gmail app in Upsales
Complete the following steps:
Click your profile picture in the top-right corner of your Upsales screen and select App directory:




From the Apps list, select Gmail.
On the Gmail screen, select Activate:




Google will ask you to allow Upsales to send emails on your behalf

Click Allow
You're now ready to use the Gmail app with Upsales.
Installing the Chrome extension
Want to sync information from emails created in Gmail? Complete the following steps:
Go to the Chrome Web Store and select Upsales Gmail Sync.

Select Add to Chrome.
Select Add extension.
Check the extension is active – otherwise emails won't sync
Now you need to connect your Gmail account with Upsales. Follow the steps below.
Connecting your Gmail account to Upsales
The final part of setting up Gmail sync is to pair your Gmail account with your Upsales account. Before you connect your account make sure you have activated the Gmail app in Upsales. Also make sure your Upsales email address is the same as your Gmail email address.
To connect your Gmail account with Upsales, complete the following steps:
After installing the Upsales Gmail Mail Sync Chrome extension, go to your Gmail page and refresh
Click the Upsales logo:



Copy the Pairing code that appears:

Return to the Upsales Gmail app page
Toggle on the 'Enable the Gmail Chrome extension' button:

Paste in the pairing code
Select Save
Using Gmail Mail Sync
Within your Gmail account you can now:
Create a new contact and company
Match a contact to an existing company
View the company card
Log an email as a closed activity
Simply select the Log email box at the top right of a new or received email to sync the information to Upsales.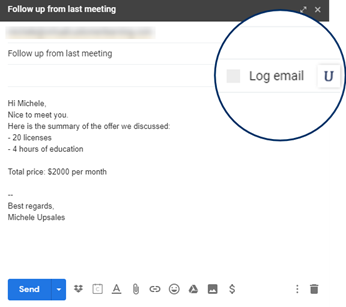 FAQ
I can't
authorize Chrome extension with Upsales
In order for Chrome Extension to work properly, you have to turn on your sync in Chrome first.
Read how to activate the sync here