In Upsales you can create specific sales processes to match your workflow and business. This series of articles will explain how to work with sales processes in Upsales.
This article covers:
What are stakeholders?
Stakeholders are key contacts on your opportunities, and when identified, the chances of closing are greatly improved.
For example, if your organisation has a complex sales process you might need to get several people, or stakeholders, onboard. These might be an economic buyer, a technical decision-maker, or a champion. If you have not spoken to the economic buyer, you probably won't close the deal.
How to enable stakeholders
Select the Settings icon in the upper right corner of your Upsales screen and select Settings.
From the left-hand menu, select Sales process from the CRM section (contact Upsales if you don't see this option).


Click Create new on the sales process card.
Give your sales process a descriptive name. Here you can also choose to restrict the process to a certain role.
Once happy with your initial settings, click Create sales process.



The stakeholder screen opens.
Enable stakeholders by setting the toggle to On.



By default, there are 4 stakeholders enabled.



Champion
Economic buyer
Influencer
Technical decision maker



You can edit, delete or add translations to these if you wish. You can also create a new stakeholder category by clicking on New value. Read more on how translations work in Upsales.



If you delete a stakeholder category, any contact that is placed under that category in an opportunity will be removed from the opportunity.
How to work with stakeholders on an opportunity
Once stakeholders are enabled, the categories are listed on the left-hand side in the opportunities window.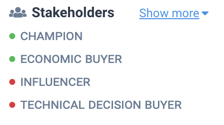 The categories are marked with red or green colors depending on if contacts are attached to the category or not. Click Show more to show the complete list of contacts under each category. Click Show less to collapse the list to view each category only.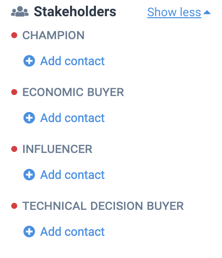 To add a new contact to a stakeholder category, simply click Add contact.
The same contact can be added to several stakeholder categories
If you have several sales processes, choose which one the opportunity belongs to by selecting one in the Sales process field.

If you only have one sales process set up, this field will not be visible in your opportunities.