Add a clear sales target for your sales team, to show on the sales board or in reports.
This article covers:
Where to find targets
Click Settings → CRM → Targets. You have to be an Administrator to view and change sales targets.
The options you see will depend on your Sales model. For example, if you measure sales by contribution margin, you'll see these targets: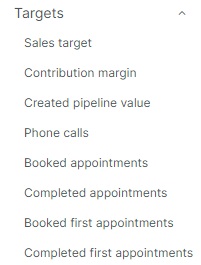 If you measure sales by recurring revenue, you'll see these targets: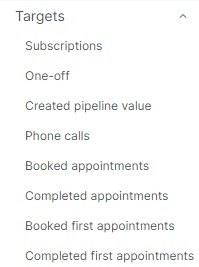 Setting targets
Click on a user and add the target. Choose to set per month, or per week:

Each user can have different currencies which will affect the overall target.
How to set activity and appointment targets