Once you have sorted, customized the columns or filtered a list, you can update or save that view to come back to it easily later, using one of the following options:
The Save & shave view button at the bottom of the filters panel

The Update view button next to the current view name

The Save view as link available when you select the arrow next to the list name

Once you select one of the previous options, complete the following steps to open the Save & share view window to finish saving the view:
Enter a Name for the view.
Enter a Description for the view.
Select one or more additional users or roles with whom to share the view.
Note that the users and roles you select will be able to choose the shared view the next time they log in. They can choose to hide or unhide views as needed.
Select Save.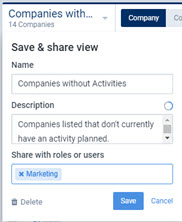 The modified list will now be available when you select the arrow next to the list name.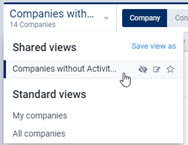 Once you have saved a list view, you can use the icons to the right of the list name to hide or unhide it, edit it or make it your default view.
Select the eye icon to hide or unhide a shared view.
Select the pencil icon to change the view name or description or to add or remove users and roles with whom the view is shared. The view creator can also delete the view.
Select the star icon to make the saved view your default view. Then every time you load that list, your saved view will show.
Lists that do not support the view selector and saved views include:
E-signs
Live feed
Advertising