Predict future sales and make informed decisions about your business. With this feature, you can:
Generate sales forecasts for individual sales reps, teams, and your entire organization
Customize the time frame for your forecasts
View predicted revenue and whether your current pace is fast enough to reach your target
Use forecasting data to identify trends and adjust your sales strategy accordingly
How to use the Upsales forecasting tool
In the sales board, on the right-hand side, you can see a forecast summary based on the selected users. Click to open the full forecasting report.

Sales current period
In this section, you can see high-level metrics on sales performance: Sales, Sales + Weighted pipeline, Target, and Left to target.

Sales pace
Shows sales over time visualized in a graph and an indication of where you will end up at the end of the selected period if you keep the same pace. The dotted line shows the expected outcome of keeping your current pace, and the full line shows the pace you should be keeping to reach your set target. If you hover over the graph, you can see the specifics of your weekly sales.

Pipeline right now
This section shows your pipeline from several different angles. Click the toggle to switch the grouping between sales reps, companies, or stages. You can also toggle on whether you'd like to see weighted or actual value.
The first horizontal bar shows the pipeline grouped by selected grouping, and the second horizontal bar shows the amount that's left to reach your target.
"Total pipeline" shows the total value of your pipeline and "Opportunities" and how many opportunities that pipeline is made up of. Changes in the last seven days are highlighted in each box.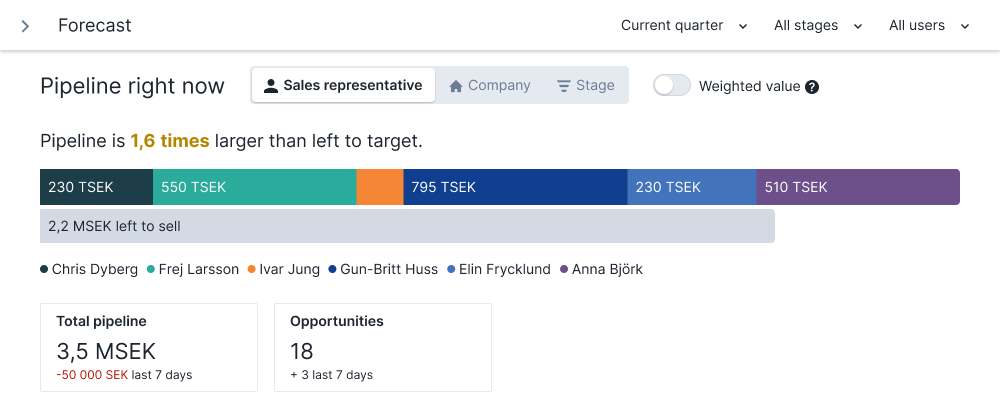 Individual sales and pipeline
Is a breakdown of sales and pipeline for each individual sales representative. For example, how much have they already sold? What's left to target? What's in their pipeline, and their "pipeline to left to target ratio".
Deselect or select a certain opportunity to explore your forecast in different scenarios - all parts of the forecasting page will be updated accordingly when filtering or selecting opportunities to include or exclude.