With price lists, you can offer different prices to your customers for the same products. Use this feature to adapt pricing strategies to different regions, segments, market conditions, promotions, plus many more use cases.
This article covers:
How to create price lists
Click Settings → CRM → Products → Price lists
You'll see a default price list (entiitled Standard). You can either click and edit this. Otherwise, click +Price list:




Add a price list name and code
Choose whether to toggle to make this the default price list (given to any company without a price list):




Click Save and the price list appears in your list:




Click to edit your price list
How to add price lists to products
Create or open an existing product
You'll see a Price list field where you can search and click a price list for the product:
How to add price lists to customer companies
Open a company card
Click Edit:




Click the Price list field to set the price list:


How to use price lists with opportunities
When you create an opportunity:
If you entered a default price list on the customer card...
...the price is fetched from that price list
If you didn't enter a default price on the customer card...
...the price is taken from your account's default price list
You can also change the price list using the dropdown inside the opportunity: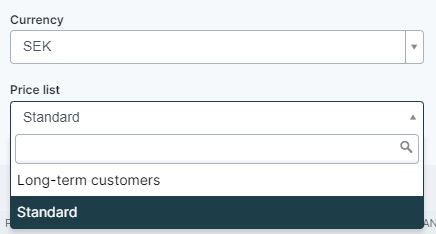 Price lists & Fortnox integration: How it works
Using Fortnox and have activated the integration? The price lists and all prices are synchronised from Fortnox to Upsales.