Match your companies with an external company database to avoid duplicates and get more company information such as addresses, revenue, and profit.
Building databases? Company Data Hub is available for Swedish companies. Bisnode covers companies based in Sweden, Denmark, Finland and Norway.
How to find the matching feature in Upsales
Click Sales & CRM
Click the dropdown arrow next to Companies & contacts
Click Match companies: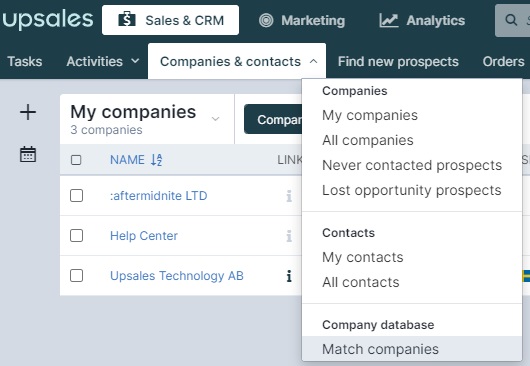 Getting started with company matching
When opening the matching view, companies not matched with a company database (such as Company Data Hub or Bisnode) are shown in the list.
Companies matching can be matched right away.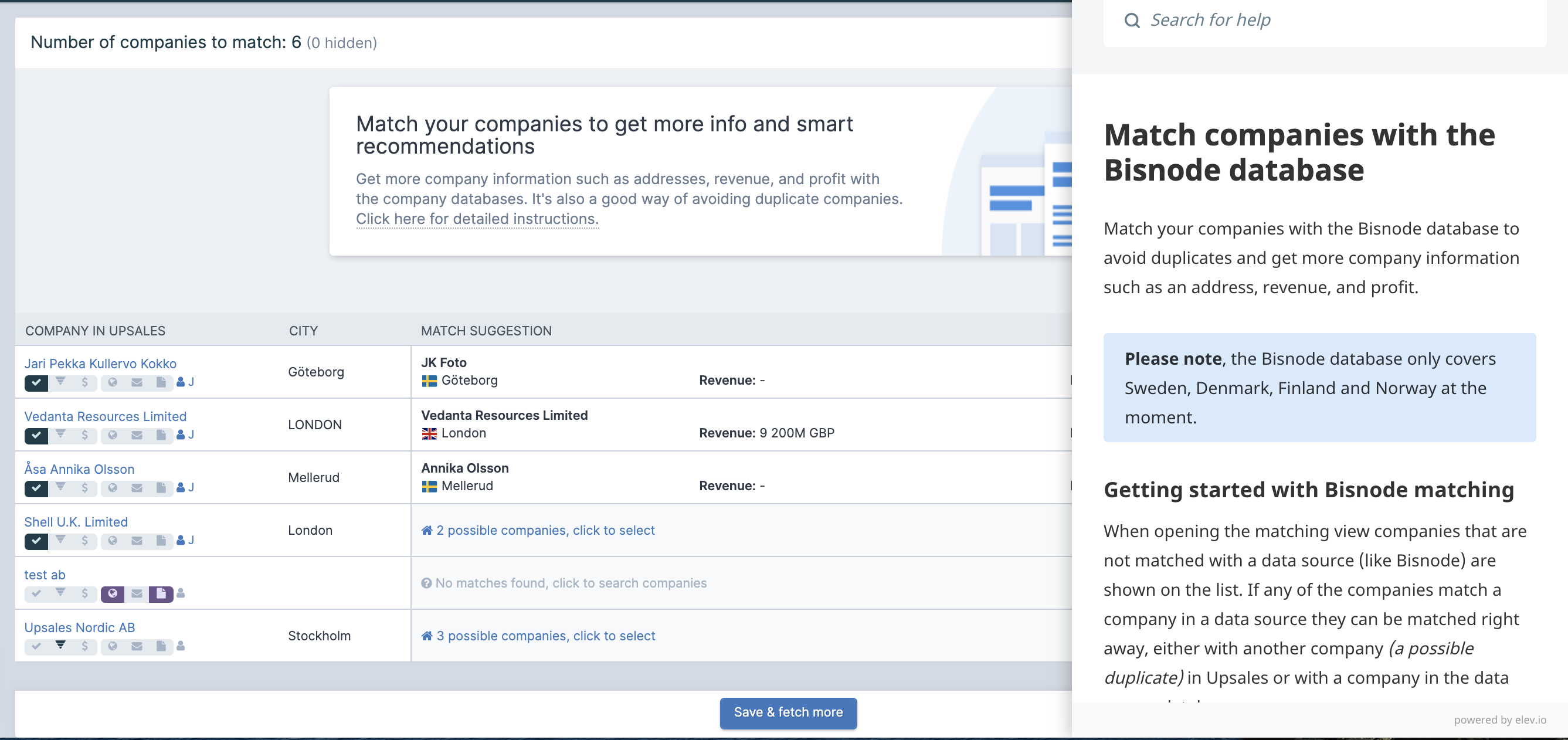 The left side of the list
These are companies in your Upsales account that haven't been matched yet.
Match suggestions
In this column, the suggested matches for companies in the data source are shown:
One match suggestions
Check the company matches the company in Upsales, and make sure the green match action is selected
Multiple matches
Review and click the green matching action next to your chosen match
No match suggestions
Check your search phrase again. If you don't want this company to be shown in this view again you can simply hide it or delete it from Upsales.
Actions
| | | |
| --- | --- | --- |
| | | The company will be matched with the suggestion. If the company already exists in Upsales the companies will be merged. |
| | | The company is hidden from the matching view. This is useful for companies that don't exist as real companies or are located in a non-target country. |
| | | The company will be removed from Upsales. |

What happens when companies are matched
If you have activated:
Company Data Hub and Bisnode
Data matches with Company Data Hub
Company Data Hub
Data is matched with Company Data Hub. Checks are made for company HQs and organisation numbers
Bisnode
Data is matched with Bisnode. Checks are made for name, organisation number, and city
All companies found will appear. However, the company that's shown first is the company that will be matched.