Use Roles to control which users have different access permissions within Upsales.
This article covers:
Opening Users & Roles
1. Click Settings → Users & roles: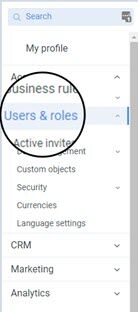 How to add new users
Click New user:




To add a single user:


Enter the user's email address.
Enter the user's first & last name.
Enter the user's title.
Enter the user's mobile phone number.

To add multiple users:


Select Add multiple.
Enter the users' email addresses. Press enter after each address.





If you have defined roles, select the user's role from the drop-down list.
Select the access toggles to control the permissions for this user:




Choose the user's Language and region:




Click to confirm their status (you can deactivate at any time) and click Invite users:


To add additional users to your plan, please contact Upsales Customer Success.
How to change a user's status
You can edit a user's status at any time, even if you have previously deactivated them:
Click Settings → Users & roles:




Click the user you want to update, or use the search bar. For inactive users, click the Include inactive toggle:





When the user's screen opens, click your preferred status between Active and Inactive:




Select Save.
How to add a new role
Click Settings → Users & roles:




Click New role:




Enter the role's Name and Description:




Choose who the role reports to, and their currency:




Here's the default information the role can access, including Company, Contact, Activities, Sales, Opportunities, Document, Subscriptions, Campaign, Reports and Events:




To change, just click on the current access level.



Only own
Users can view, edit, or delete information they've added to Upsales

Role
Users can view, change, or delete information added to Upsales by any user with the same role
Same as inheritance role
Inherits the same user access as the role above this role in the role hierarchy. This access is not available for Change or Delete access
None
Limits users from deleting information



You can change these across the three columns: Access (the user can view the information), Change (the user can edit the information), Delete (the user can delete the information)
Select Save role.