How to assign your users with roles and access permissions to limit and control what they see and do in Upsales.
Note: Only users set as administrators can view/edit roles and permissions. Billing administrators can add new licenses.
This article covers:
How to set role hierarchy
'Reports to'
Use the "Reports to" field when you want your Upsales hierarchy to reflect your company hierarchy. You may need to create the roles in Upsales first.
Setting hierarchy
This option places your role at the top of the role hierarchy. To view, click Account → Users & roles → New role:
Currency for roles
Decide the currency to be shown to different user roles in their reports and sales.
Role access & permissions explained
When setting role access, clicking an option under each column shows the access permissions:

Permissions
Click on Account → Users and roles → New user and you set access permissions for roles. Hover over the question mark for a full explanation of each setting: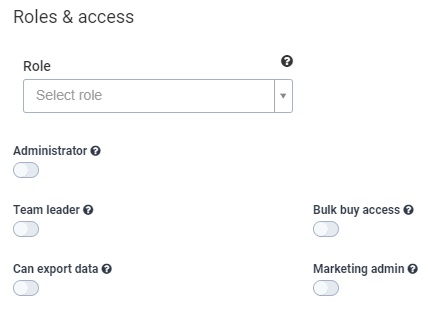 Below is a summary of roles:
Administrator
Full control over your Upsales account
Team leader
An admin of the specified role
Can export data
Able to download information from within Upsales
Bulk buy access
Search and add new companies to your account
Marketing admin
Use the marketing widgets inside the sales tab