The company is where most of the information in Upsales is stored. The Companies list gives you an overview of company information and allows you to easily access additional information for each company.
Video 2:34 How to work with the companies & contacts list
This article includes information on:
Opening the Companies List
To view companies, select Companies under Sales & CRM on your Upsales Home page. Or complete the following steps:
Select the Sales & CRM tab.
Select the arrow next to Companies & contacts.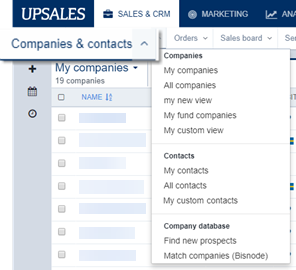 Select one of the following:

My companies - for a list of companies you have added to Upsales
All companies - for all companies added by your organization
Saved companies - for any of your saved lists
The list of companies you selected is displayed.
Viewing the Companies Lists
The Companies lists provide an overview of information about your companies.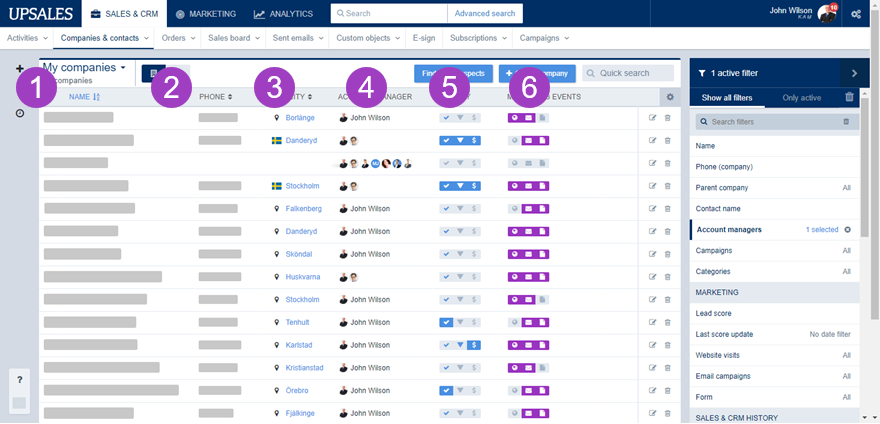 Company name - opens the company card to the timeline
Phone number - opens the phone number in your associated calling app
City - opens the company card to the associated addresses
Account Manager(s) assigned to that company
History overview - shows if there are appointments, opportunities, or orders (hover the mouse over each icon to see more details)
Marketing Events overview - shows if there are web visits, emails, or forms by this company
To find a specific company in the list, enter the first few letters of the Company name in the Quick Search field at the top right.
The row for each company allows you to open, edit or delete the company.
To customize your Companies list, you can:
- Sort the list
- Customize the columns shown for the list
- Filter the list
Once you have customized a list, you can save that view to return to it easily later.