Create forms and embed them on your website, or build your own landing page with forms to collect information about your visitors. Then you can track the companies and contacts with form submits and assign a sales rep.
Video 4:12 How to work with forms and landing pages
This article includes information on:
Related articles
Viewing forms & landing pages
Click Marketing → Forms & landing pages:




Toggle to view either forms or landing page data:


Headers
After opening, you'll see a dashboard with a set of column headers:



Sorting
Click any header to sort in ascending/descending order: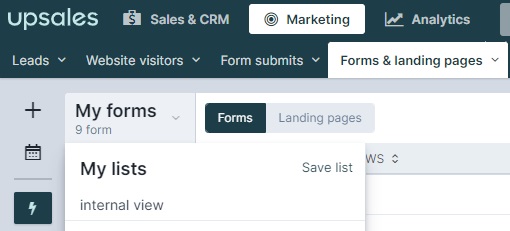 Editing
You can edit which headings appear in your dashboard by clicking the tools icon:
Click an option under form fields to add to your dashboard. You can have up to 8. You can also rearrange the column order by clicking and dragging options under Selected columns: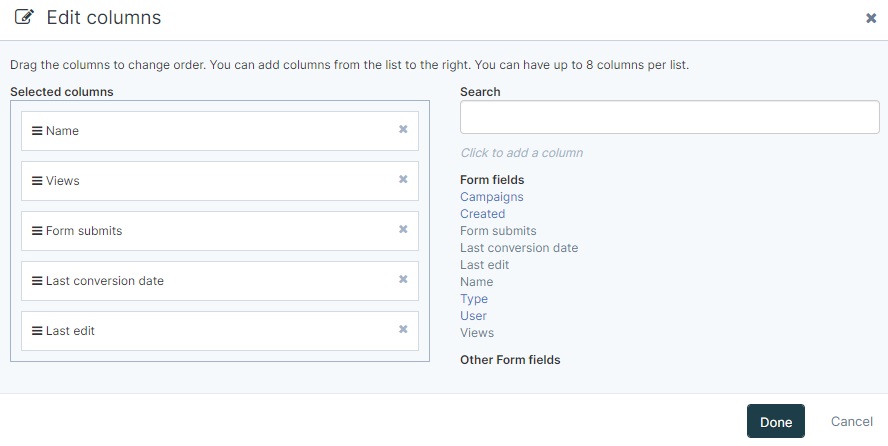 Archiving
Next to the edit icon you can click to archive:
Searching
To find a specific form or landing page in the list, enter the first few letters of the name in the Search bar:
Filtering
To filter the form view, click Filter above the tools icon:

To clear active filters, click the Trash icon: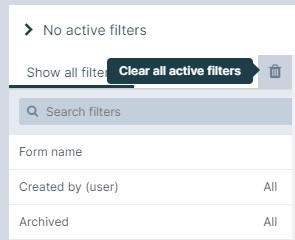 Saving
To save a form view, click the dropdown and then click Save list: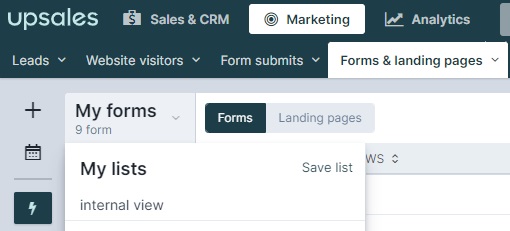 You can also share the list with users and roles with the same permissions as you.
Your saved list is now available under My lists when you click the dropdown: