Track how your contacts interact with different pages on your website. To see which pages contacts visit, you can install a small tracking script on those pages.
Video 1:36 How to install the tracking script
The process for collecting website visitor information involves just a few steps:
1. Copy the tracking script in Upsales.
2. Add the script to only those pages on your website that you want to track.
This article will guide you through the steps to find and copy your tracking script.
Once you have installed the script, Upsales will begin tracking information about your contacts' views of your web pages on the Website Visitors list. When tracking which companies are visiting your website, the tracking script also sets cookies:
To track who visited your website
For re-targeting
Copying the Upsales Tracking Script
Only Upsales Administrators can access the Website Visits tracking script.
To copy the tracking script, complete the following steps.
1. Select the Settings icon in the upper right corner of your Upsales screen.

2. Select Settings.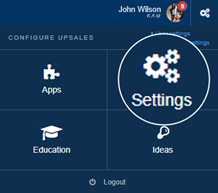 3. From the left-hand menu, select Website visits from the Marketing section.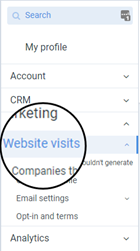 4. Select Copy under the Script for website.

5. Option: Turn off the retargeting cookie if you do not want to use it

The retargeting cookie will send information to the Upsales sub processor if you want to buy retargeting advertising from Upsales. If you don't want to use this feature you can turn off our retargeting cookie on your website.
Adding the Tracking Script to Your Website
Tip! Only add the script to the pages you want to track. Internal pages such as intranets or customer portals might clutter your website visitor lists and reports.
The steps for adding the script that you've copied from Upsales to your website will vary, depending on your website setup and your web hosting service.
If you are adding the script directly to the HTML coding, the script you copied should be pasted near the top of the <head> element in your web page coding, before other scripts or CSS tags. It is also a good idea to put the script in the footer of the pages on your website that you want to track.
In some cases, such as for a site hosted on Weebly, you may have a place to paste the script in the header under SEO settings.

In other cases, such as a site hosted by Wordpress, you may need to use a plug-in or add-in to install the script.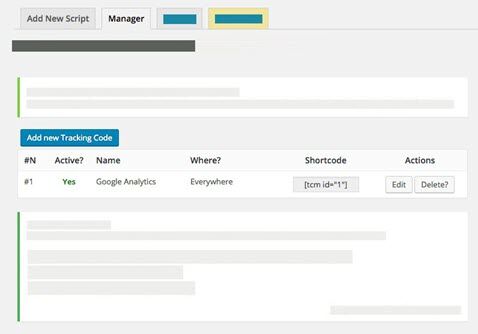 How to set up the website tracking script on your WordPress website
If you are using Google Tag Manager, complete the following steps:
1. Create a new tag in Google Tag Manager for your website.
2. Paste the Upsales script into the new tag.
3. Check Support document.write for the new tag.
If you are unsure how to install the script on your pages, contact your web agency or the team that maintains your website.