Video 2.27: How to work with website visitors
In Upsales you can track how your contacts interact with your webpage and see which pages that they visit. With the website tracking script implemented in Upsales, you can look at your website visits in Marketing > Website visitors. This list shows you the latest visits on the pages you've selected to track.
You can also use the filters on the right-hand side to narrow down your results and adapt the view to your needs.
To get an overview of your website visitors and how they have interacted provides you great insights on what´s generating traction in your different marketing channels and to quickly be able to act on turning website visitors to leads.
 The standard view in the Website visitors is sorted in the following columns:
Date: Timestamp for the website visit
Company: Which company the visit is from if matched with IP address
History: Open activity in Upsales/ Opportunity in Upsales/Order in Upsales
City: Which city is the visit registered.
Assigned to: Is the company assigned to any sales rep in Upsales. If not you will be able to assign the lead directly to a sales rep from this view.
Lead score: How many lead scores have the company accumulated.
Lead source: Which source did the website visitors come. 
You can edit the columns in the list clicking the cog wheel icon

 in the upper right corner of the list.
In the view selector, you can also choose to filter your visits depending on the identified vs. all visitors.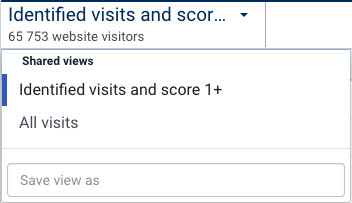 When you have identified your website visitor, you can also add them into your nurturing programs to make them score higher and provide warm leads to sales.