This article includes information on:
Creating a New Company
Open the Companies list.
To add a new company, select + Create company from the top of the list.
Enter the name of the company. As you type, Upsales searches to see if you already have the company listed, or if it is in our company database. If the company is on Bisnode, you can select the + to the right of the company name to add it as a new company or apply the information to an existing listing.

If the company is not listed, select Create the company manually to open the Create company window.
To edit an existing company, select the edit icon at the top right of the company card.

To complete or update the company details, complete the Create Company screen as follows: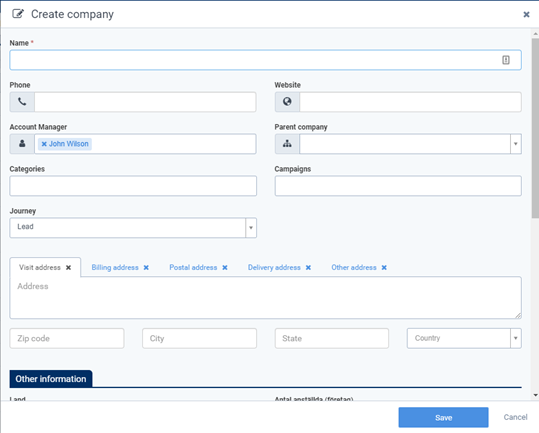 Enter the company Phone number.
Enter the company Website.
The current user is automatically added as the Account Manager. You can select the X next to the name to remove it. You can also add additional account managers by selecting from a list.
If you want to associate a parent company with this company select it from the Parent company drop down list.
To assign one or more categories to the company, select them from the Categories drop down list.
To assign one or more campaigns to the company, select them from the Campaigns drop down list.
The Customer Journey is automatically added as Lead, but you can manually change the company's status here at any time.
You can enter up to 5 addresses for the company using the following address tabs:

Visit address
Billing address
Postal address
Delivery address
Other address

Enter any other applicable Other information.
Select Insert Signature next to Notes to automatically add your user name and the current date and time to the Notes for this company. You can include additional text as a note that will show in the Sidebar for the Company card.
Select Save.
Updating a Company
If you've added a company using one of our data sources, you can update the company's details, based on your available company purchases.
To update a company, select the Update company data icon at the top right of the company card.

Select Update in the confirmation window to retrieve current information about that company from different data sources, including economic info, number of employees, industry, etc.
Removing a Company
When you remove a company all related items are also permanently deleted from your account.
To remove a company from your database, complete the following steps:
Select the Remove icon at the top right of the company card.


The confirmation window shows any affected items (activities, website visitors, contacts, etc.).


Enter the company name to confirm deletion of the company.
Select Delete company and related items.