Within your Sales process you can identify decision-makers. The people with the power to approve or reject your deals.
You can define your decision-makers by their job title, or by their role as a stakeholder within the deal.
Upsales gives you two options for your Sales process: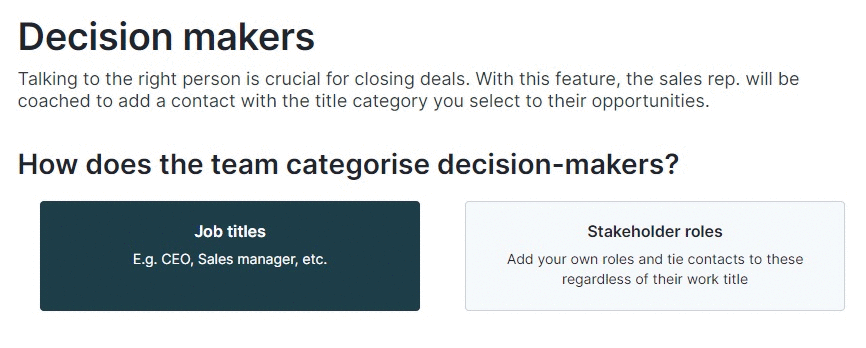 Job titles
These are based on the data you have in Upsales.
The job title option is useful when:
You have full visibility over your prospect organisation and its hierarchy
Group emails/communication may include every decision-maker and their job title
There's an established sales process
You have clarity over job titles. For example, knowing who's the decision-maker between a CMO and the Marketing Director
Stakeholder roles
These are based on the MEDDIC sales process (Metrics, Economic buyer, Decision criteria, Decision process, Identify pain, Champion).
The stakeholder option is useful when:
Decision-makers are involved, but not in a way that matches their job title or day-to-day functions
You have to identify decision-makers who are less visible, maybe behind a PA or with a less common job title
You're unsure how buying decisions are made within the organisation
A decision-maker has just started in their role, but doesn't yet have enough authority or understanding to make a decision