This feature is available in the latest version of Upsales Subscriptions. Contact support@upsales.com to get upgraded for free.
Upsales offers a powerful feature that allows sales representatives to seamlessly upsell within an ongoing subscription period. This means you can easily identify upsell opportunities, work with them in the sales board and close the deals within ongoing subscriptions. All of this within Upsales.
This support article will cover how to upsell in existing subscriptions:
How to Upsell in an Existing Subscription
When a sales rep wins an opportunity with a subscription product, they will have the option to add the recurring products to an ongoing subscription period. If the customer already has an active subscription, the sales rep will be presented with the option to choose to add the product to that subscription.
When selecting this option, the subscription will automatically prorate the value of the added product based on the remaining period of the existing subscription. The opportunity (that will become the order and the registered sales) will update accordingly to the prorated value. The prorated value ensures accurate tracking of sales and ARR/MRR (Annual/Monthly Recurring Revenue).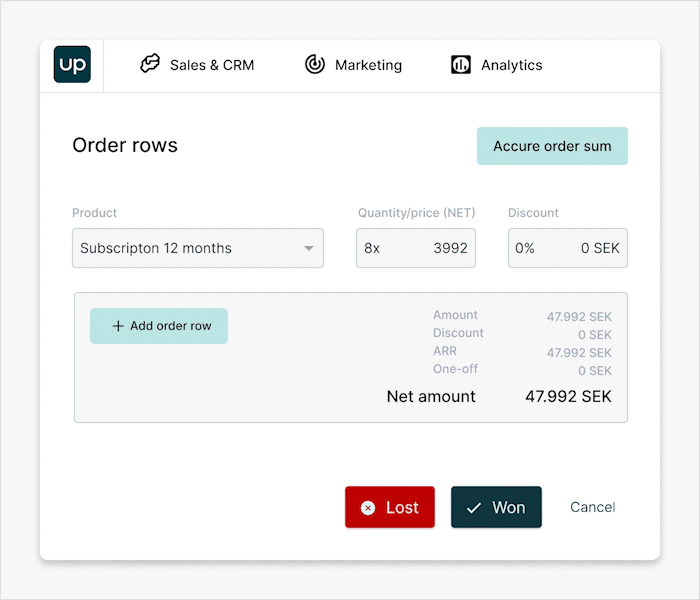 Here's how it works:
Win the opportunity after identifying the upsell opportunity(there are three ways of doing this that are explained below)
Choose to add the product to an existing subscription.
The subscription products from the opportunity will be added to the subscription as separate order rows (highlighted as "New" for easy identification).
Note: If there were any one-off products in the original opportunity, the prorated order will include them as well.
The subscription will handle the prorated order, adjusting the value to match the remaining period of the subscription.
Save the subscription to view the prorated order.
Ways to register an Upsell in a Subscription
Upsales provides three different ways to register an upsell in a subscription from an opportunity:
Clicking the "Won" Button:
By clicking on the "won" button when identifying an upsell opportunity, sales reps can access the options to add products to an existing subscription or create a new one.

Drag and Drop to the "Won" Stage:
Sales reps can also drag and drop an opportunity to the "won" stage, triggering the same options as mentioned above.

Changing the Opportunity Stage to 100% Won:
Sales reps can change the opportunity stage to a 100% won phase, leading to the same options for upselling in subscriptions.