Every sale you win deserves a celebration. And if you can understand why you lose a sale, at least you win knowledge. That's why your opportunities come with Won and Lost buttons.
This article covers:
Won button
Open your opportunity, and in the footer you'll see won and lost buttons:

Click Won and you get a big congratulations from Upsales (hey, you deserve it).
You'll also see an automatically adjusted summary showing progress towards your sales targets.
Note: Set the win date as next month, and this won't affect your sales target for the current month.

Upsales AI = more opportunities
If the company has been downloaded from the Upsales prospecting tool, you'll then get Upsales AI-powered recommendations for similar companies to target.
These are based on Upsales AI crunching company data to analyse, identify and present you with potential opportunities.
Add a single or all recommendations to your CRM and Upsales automatically creates an activity for you to start prospecting.

Won buttons for Subscription businesses
If your sales model is subscription-based, for example ARR/MRR, you can win deals and get the option to:
a) add the opportunity to an existing subscription, or
b) create a new subscription
Add an opportunity to an existing subscription
Note: This feature is in BETA as of 2023-01-27, contact us to get access to the BETA
If you have ongoing subscriptions with the company, you'll have the option to update the subscription with the new products, and let the customer pay for the time left in the agreement period.
Choose what subscription you'd like to update. The subscription will automatically prorate the value of the product, based on the remaining period for the added products, and create an order.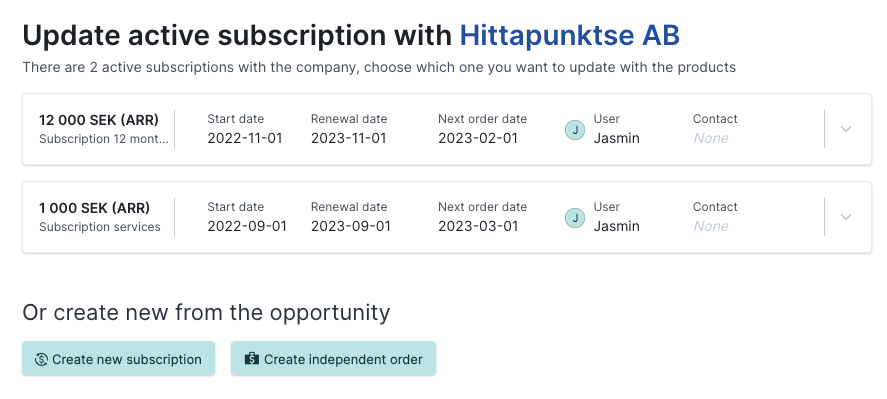 The ARR increase will be registered for the subscription and the company. Meanwhile, you can ensure the correct order sum is created.
Create a new subscription from the opportunity
Want to create a new subscription with the products from the opportunity? Click create new subscription, and set up the scheduling and order interval for your subscription.
The first order is created from the opportunity. That's why the subscription creates the first order in the subscription for your set-up.
Lost button
Even when you do everything right, not every lead is going to convert. Naturally, there's plenty you can learn when this happens.
Upsales enables you to understand why a deal was lost. You can then use this understanding to improve your chances next time.
Open your opportunity, and click the Lose button. You'll see different reasons for the lost deal: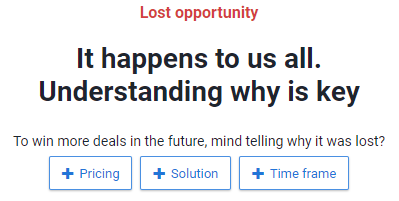 Pricing
Was there a mismatch around costs/budget?
Solution
Maybe yours wasn't the right solution?
Time frame
Has a decision been postponed indefinitely, or sales/business cycles just don't align?
Customising reasons for lost deals
Of course, there are many other reasons a sale might not happen. You can also add your own custom options.
Adding competitors to your lost deals
Make your choice, and if the lead chose a competitor, you can add that here:

Upsales then tells you if any other opportunities are also at risk for the same reason. For example, if you lose a deal because of pricing, Upsales shows you all your other opportunities where pricing may be an issue.
Adding reasons for lost deals
Click Settings → CRM → Fields → Order & opportunities: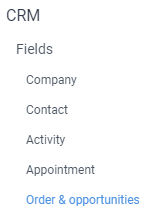 Click on Lost reason:

Click the New value button and add your custom reason. You can also translate the reason, simply by clicking the flag and changing the language: