Customer Journey statuses help your team focus its time on high-quality leads.
Video 2:56 How to work with customer journeys
After you have configured your journey statuses, companies and contacts will be assigned with a journey status based on your defined criteria.
When a new lead is assigned to a user, the user should attempt to qualify or disqualify the lead as soon as possible. This helps make sure they only spend time on the leads that matter.
Marketers can add the Journey column to any company or contact list to show that Journey status.
Journey status is also available as a filter, so that you can focus only on a particular status.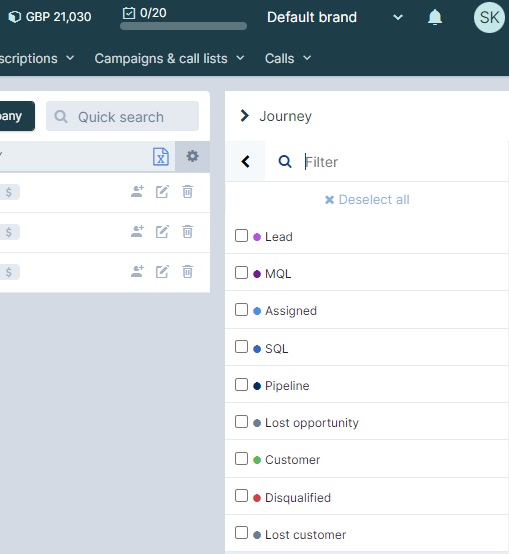 Focusing efforts by Journey status also makes it easy to target companies with marketing efforts based on a certain stage in the journey.
For example, you might use different email campaigns, marketing events or ad campaigns targeted at the different stages of the funnel.
We also recommend creating a report in Upsales Insights to track which MQLs become SQLs and ultimately customers.
You can use this report to optimise your funnel over time by iterating on your MQL criteria in order to drive more high-quality leads to your sales team.