Have you got companies you no longer want to sell to, but you want to keep the historical data? You can make the company inactive.
This article covers:
How to make a company inactive
Open the company card of the company you want to set as inactive.
Click the edit icon:


The company settings screen will appear. At the bottom of that screen, you will see a toggle labelled "This company is active". Set that to off and click Save.


The inactive company screen will appear with a few options:



You can make all company contacts inactive
If you have Customer Journey, you can set the company status to Disqualified
If you have several stages with the probability set to 0, you can choose the stage you want to move open opportunities to
You can also add a reason for making the company inactive



Type the company name as stated and click inactivate. The company is now inactive. You can still access historical data, such as sales, appointments, and activities
What happens after a company is set as inactive
When you set a company as inactive:
All open activities will be closed
All opportunities will be moved to a stage with a probability of zero (0). If you have several stages with probability 0, you can choose which one you want to move opportunities to
You can no longer create entities or perform actions on an inactive company

All other information, such as sales or appointments, remains available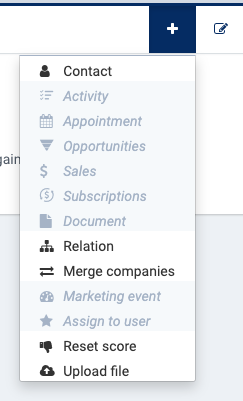 On search results and on the company card an inactive company is labelled as inactive.




How to reactivate an inactive company
You can reactivate a company at any time:
Go to the company card you wish to activate.
Click on the edit icon on the top right-hand side.
The company settings screen will appear. On the bottom of the screen, there is a toggle labelled "T

his company is inactive

". Set that to On and click Save.