The Report Centre is your all-in-one BI and reporting tool for your sales and activities.
You can explore performance, targets and progress for both your organisation and individual users. Start with a summary overview, with options for customising and filtering as you drill down.
This article covers:
Please note: The Report Centre uses the data you add to Upsales. The more data you put in, the more insights you get out.
Where to find the Report Centre
Click Analytics → Report Centre:

This opens up the default view:

Dashboards overview
Dashboards offer multiple ways to view, analyse and drill down into your data. Upsales gives you a set that is ready to go: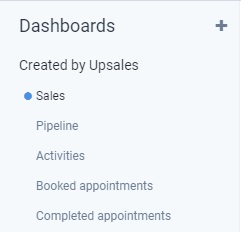 Click any of these and you'll get taken to the full dashboard.
You also have the option to create your own dashboards, by clicking the + sign:

How to use Report Centre dashboards
Widgets overview
Use widgets to go in-depth on any metric or dimension in Upsales.
Save and use for regular reporting. Share among your team for BI collaboration.
Available widgets
When in the dashboard screen, click the + sign on the right-hand side:

This opens a widget gallery: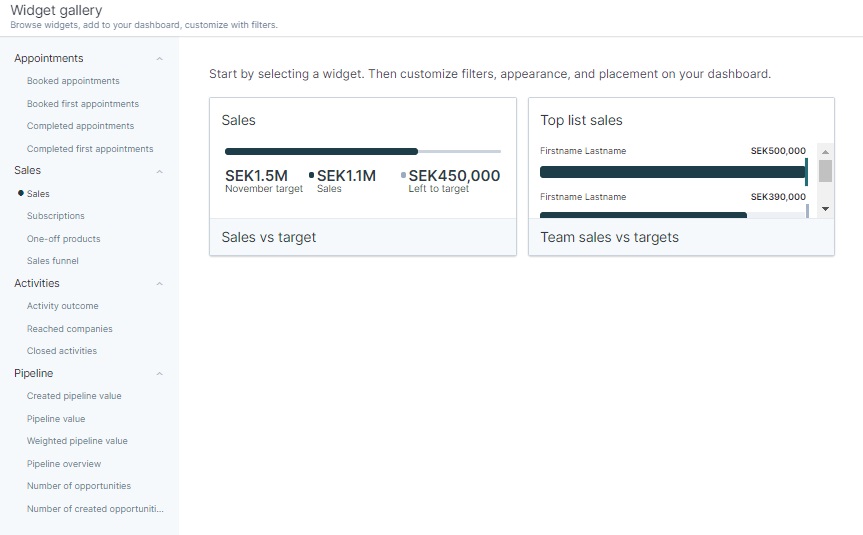 Click on any of these to start uncovering the insight you need.
How to use Report Centre widgets