Widgets add a new layer of insight to your Report centre. Create and customise your data, go granular by adding filters, save reports for reference, and share BI among your team.
Below is a step-by-step article on widgets. You can start at the beginning and work your way to the end, or jump to these sections:
Step 1: Creating a widget
Click Analytics → Report centre:




This opens your dashboards list:




Click the + sign on the top-right of your screen:




This opens your widget gallery.
Click the activity you'd like to create a widget for. For this example we'll choose and click Appointments → Booked appointments:


Step 2: Visualising a widget
Give the widget a name:




Click the Group by dropdown to choose criteria for grouping your data. You always need at least one form of grouping; it defines how your data should be presented:




Choose how the data will be displayed. The options change automatically depending on the widget you've chosen. Click each tab to compare:




You also have toggle buttons to show/hide the target or legend. Click a metric to view options:



With target toggled on, you can view and compare actual performance against targets – just by hovering over the displayed data:



Alternatively, you can toggle Show legend to see what each colour represents:


Hovering over data often shows you extra insight. For example, imagine you're analysing data per month. When you choose Horizontal bars to display the data, hovering over each colour reveals which month it's related to. Below you can see that green = Jun 2021, blue = Mar 2021:




Step 3: Customising a widget
On the right-hand side, you will see the widget filter list. If you wish to only show data for a specific period of time, for a specific user or any other constraint, those can be set up here. In most cases, this is not necessary. 

By default, only the date range is set up.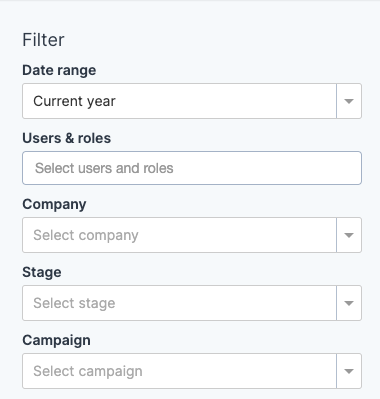 Add a filter by selecting one of de filters in the list. Add the filter you wish to apply, for example: select a specific campaign you are interested in.

The filter will apply automatically to the widget.
Step 4: Saving a widget
When you've created your widget, click Add to dashboard at the top-right of your screen:


The widget is now visible in your chosen dashboard
Step 5: Organising widgets
Over time, you might end up with more and more widgets in your dashboard. To keep things organised, you have several options:
Rearrange
Click and drag to move your widget around your screen 
Resize
Hover over the widget. Click and drag this icon when it appears on the bottom-right corner:

Edit
Hover over the widget. Click the three dots to edit, delete or change the displayed chart type:


Please note: The Report Centre uses the data you add to Upsales. The more data you put in, the more insights you get out.
Types of widgets available
Widgets cover the following areas:
Activities
Includes activity outcomes, reached companies, closed activities
Appointments
Includes booked, completed, first, rate of appointments leading to won deals
Journey
Includes new leads, SQLs, MQLs, assigned leads
Marketing
Includes flows, email campaigns, event-related activities
Pipeline
Includes pipeline overview, created, weighted, opportunities
Sales
Includes sales cycle, funnel, products, orders, growth
Other widgets appear based on your selected add-ons and sales model.
For example, if you have a subscription-based model, you'll have the option to analyse recurring revenue. And if you have Report centre PRO, this also gives you a widget:
Report centre PRO widgets
Churn rate is one example of a widget only available in Report centre PRO:

This shows KPIs for:
Number of customers that churn
Churn's impact on your ARR/MRR  
This example can reveal more about the nature of your churn. For example, imagine you're losing customers but revenue is increasing.
The widget can tell you that maybe you're simply losing customers who were bringing down your revenue (perhaps through increased costs). And now you're focusing on a smaller number of higher-value customers.