Using the Subscription feature in Upsales for invoicing and billing?
This article covers how to know:
Whether your recurring revenue increasing or decreasing
How high is your churn, and how it affects your growth rate
How cancellations may affect your future churn rate
Key terms
When googling SaaS KPIs, it's easy to be overwhelmed by all the smart people who created tens of thousands of blog articles covering 100+ metrics.
This article will cover the basics; we recommend Googling "Bessemer Venture partners SaaS Metrics" for some great reading.
Annual Recurring Revenue (ARR)
ARR is the value of the recurring revenue of a business's term subscriptions normalised for a single calendar year.
Example:
You have ten customers each paying you €100 every month
Your ARR 10 x €100 x 12 = €12,000
Monthly Recurring Revenue (MRR)
MRR is the same as ARR but on a monthly basis, so the total of all your monthly payments. So in the example above, your MRR is €1,000
Expansion
Increased value from up-sells, add-ons, extra seats, etc. from already existing customers.
Contraction
The decreased value of contracts from down-sizing/down-grading.
Churn
The total value of customers who stopped subscribing to your service. Please note that when we calculate churn in the ARR Insights dashboard, it is calculated as the sum of churned customer AND customers who decreased in contract value. Please see the example in the next section.
Churn rate
The annual percentage rate at which customers stop subscribing to your service. Usually, measured within a single calendar year, or a rolling 12 months.
Ridiculously simple example: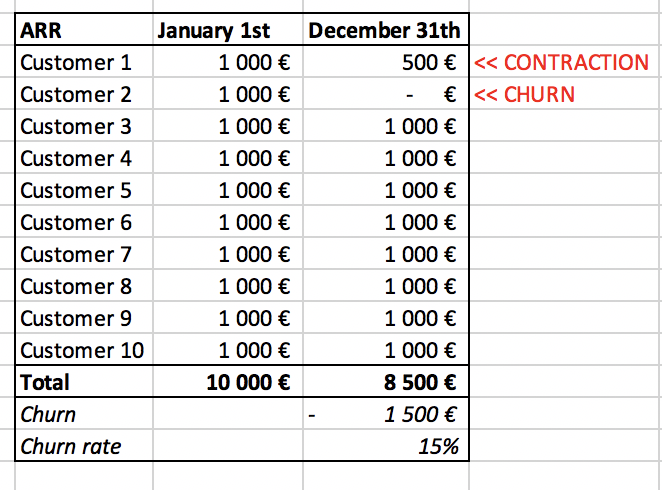 In the above example, the business loses a customer, and drops the contract value of another customer. Churn rate is the sum of these two changes (€1,500) divided by the starting ARR.


ARR Growth
The value of all the changes in your ARR during a calendar year. See the example in the next section.
ARR Growth Rate
The annual percentage change of your ARR.
A very simple example: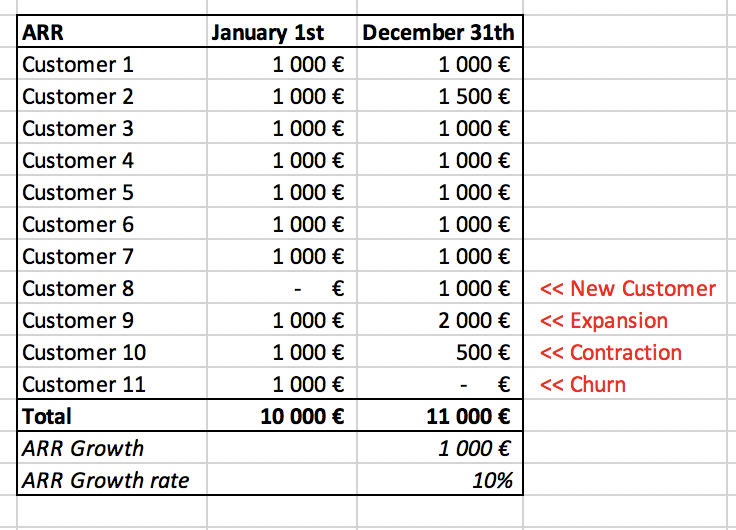 How Upsales automagically keeps track of all the above for you
Every night, a particular kind of magic happens in your Upsales database. We take a snapshot of your current ARR and save that data so you know precisely what ARR each of your customers had on a specific date. Changes are logged as New Customer, Churn, Expansion, or Contraction.
But wait! What if I make a mistake and correct it the day after?
The good news is, we take care of that too. Below are three cases where we clean your data.
1. New customer that churns within 90 days
When you create a new subscription and delete or terminate the contract within 90 days, the record of new customer and churn will be removed from the database (since the sum is 0).
2. A churned customer that is regained with the same amount within 90 days
If a contract is terminated and a new subscription starts within 90 days with the same amount, the record of churn and new customer will be removed from the database (since the sum is 0).
3. Contraction on a new customer within 30 days
If you create a new subscription and decrease the value within 30 days, this will not be logged as a contraction. Instead, the amount of the "New customer" record will be reduced.
Churn vs cancellations
Since the notice of cancellation often arrives long before the expected renewal date, churn imminently becomes a lagging measure - making it difficult to act on.
So churn is neither a fair nor an up-to-date reflection of how your business is going. Received or incoming cancellations, however, is a concurrent performance indicator. It gives you a more accurate insight into how well you've managed your clients lately.
Details about how cancellations are logged
A cancellation will be registered when you enter a termination date for an active subscription, and the customer lacks a future subscription (a subscription with a start date in the future).
If you remove the termination date before the subscription expires, the cancellation log will be deleted from the database.